If you have heard of Sapa and planned for a 2-day trip, it will be a lot more enjoyable and fulfilling to include Coc San cave. Despite not being as well-known as Sapa downtown, Coc San cave keeps its indispensable attraction for nature-lovers.
1. Highlights
Coc San, which is actually a complex of many waterfalls and caves, is located in Coc San Ward, Bat Xat District, only 7 kilometers from Lao Cai center. Coc San seems to have great pride in its untouched marvelous beauty; therefore, it creates some challenges for anyone wishing to discover it. From the highway, you have to walk through an approximately one-kilometer-long rocky rough path. No matter how hard it seems, the scenery of green paddy fields, lush mountains and small villages of ethnic groups will make up for it. Then when you can hear the sound of waterfall flowing down like singing in the wind, you know that it's only few hundred meters left from the spectacular scene you are looking for.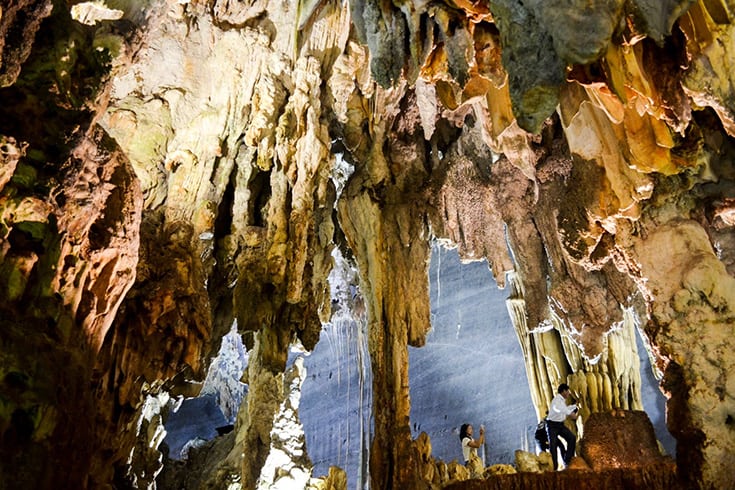 Finally, there you go. Coc San waterfalls are scattered all over the place, with caves from small to big lie among, so they look like being embraced by Hoang Lien Son mountain range. The hills, with medium slopes, are formed as stairs, equally from low to high; together with unevenly placed rocks as if they were supposed to stop the flow. As a result, the stream flows so fast that you can hear its sound clearly and see how it turns into white bubbles upon reaching the lake down there. Unlike the upper part, the one below quietly and smoothly runs around numerous rocks of strange and different shapes. Some are flat and big enough for several people to stand on and take a check-in picture, some are completely covered in the green color of wild grass, some are tapering off to build nice stone steps, some are sloping on one side as if the crystal-clear water were on the way to eroding their surfaces.
Behind almost every cascade is a cave spacious enough for travelers to get in and be astonished at how cleverly Mother Nature shaped the stalactites. Depending on your imagination, they can be in the shape of a thousand-year tree, a flying bird or a huge elephant. Stones on the wall are still sharp and yellowish, proving that the cave has remained untouched and off –the-beaten-track. From inside, you will feel like you are lost in a pre-historic accommodation with rocky wall and water curtain. No need any air-conditioner, the weather is mild so you possible forget it is currently in the summer of a tropical country.
Looked from outside, Coc San cave is the perfect combination of rocks and water, of magnificence and gentleness, luring you into a wonderland where no honk and rush exist, just immerse yourself in the breath-taking nature and laid-back lifestyle.
2. What to Do at Coc San Cave?
Coc San cave is undoubtedly greatly suitable for trekking lovers. It is hardly affected by people's business activities; therefore, the path you have to go through from outside to cave inside is effort-requiring. Once getting in, you may be sweating, the cool wind and stream water are there to cool you down. You can play with water, relax on the big rocks, take pictures of beautiful wilderness and even take a bath.
Sunrise in the mountainous area is not as romantic and dazzling as by the seaside. The warmest time of the day is when some light cozy rays of sunlight cover the whole system of waterfall and low hills, penetrate the water curtain and make it magically sparkling. This peaceful moment has become the inspiration for a number of photographers.
In the end, you can take a look at the villages in Coc San ward- where ethnic minorities are located and boast their unique cultural features. You can tell from the materials they build houses, how they position altar, kitchen and bedroom, the festivals, how they carry out agricultural practices and their food. You will fall in love with golden and fragrant terraced rice fields in harvest and people embroidering and weaving strange patterns on a colorful piece of cloth.
3. What to Eat Near Coc San Cave?
The last part of your trip is surely filling up your belly with some special dishes that can't be found anywhere else. They are brook fish freshly grilled, roasted carried-under-arm pig, Thang Co (horsemeat seasoned spices), dried spicy pork, vegetables and warm corn homemade wine.
4. How to Get to Coc San Cave?
From Lao Cai town center, go towards southwest about 5 kilometers (3.13 miles) along 4D highway, you will reach Coc San ward. Pay attention to the sign, because there is only one small rocks-filled path leading to Coc San cave. Then, after walking about 1 kilometer, you get there.
5. Tips on Visiting Coc San Cave
Because the weather is colder than delta area and the path is not easy to walk on, you should wear a thin jacket or warm clothes together with sports shoes. It would be best if your backpack is not too heavy, also.
Don't worry about the language barrier, most Sapa people can speak a little English, even not, they are absolutely willing and enthusiastic to help and interact with you.
Coc San caves and waterfalls are one of the most scenic untouched natural spots left in Sapa. They are incredibly awesome and tranquil, a great addition to your Sapa sightseeing and culture- discovery trip. Tell us more about your impression of this complex !