Ham Rong Mountain, right next to Sapa town center, is a famous eco-tourist site in Sapa, Vietnam that attracts millions of visitors each year. The place is well-known for its beauty and fascinating and thrilling legends. So what makes this destination a worth-visiting attraction in Sapa, Vietnam? Find the detailed answer here!
Highlights of Ham Rong Mountain
Ham Rong boasts its unique features that you cannot find anywhere else. Located right behind the Sapa Church, the mountain has a shape like a dragon holding its head up towards the sky. It has the name Ham Rong (Dragon Head) because of this special shape.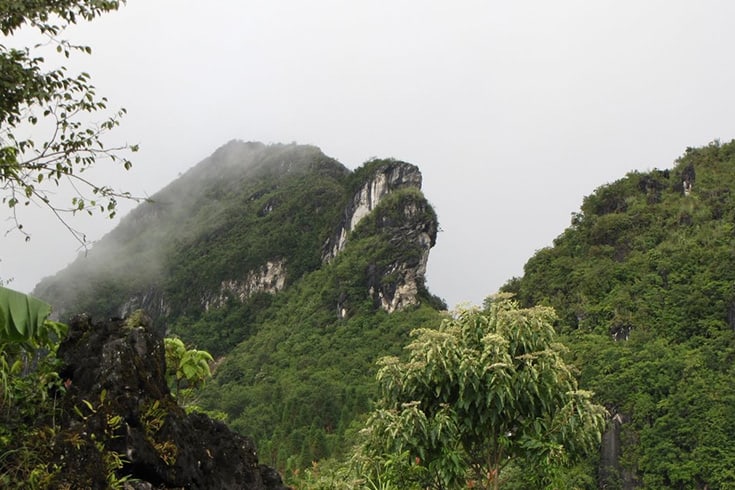 Many people find its legend much more interesting and romantic. Legend has it that, once upon a time, the place was a home of a dragon couple. They love each other so passionately that they were always together. One time, they were suddenly struck by a great flood when they were playing. All things were sunk under the water. Though the male dragon luckily escaped thanks to his strength, the female was so exhausted. She fell into the water, raising her head towards her partner who were flying to heaven. Over time, her body turned into the majestic Hoang Lien Son range while her head turned into the Ham Rong mountain.
Now the mountain is home to many different types of flora. On the way to the top of Ham Rong mountain, you can discover up to 6000 orchid vegetation. There are also a lot of wild and unique flowers grown alongside the paths like cherry blossom, hydrangea, geraniums, Lily of the Nile,… Besides, you also have a chance to taste many kinds of Sapa fruits like peach, plum, and pear. Ham Rong mountain looks like a heaven on the earth surrounded by the drifting clouds and echo sound from Mong boys' bamboo flute.
What to See & Do at Ham Rong Mountain?
The followings are some suggestions of what you can do at Ham Rong Mountain, Sapa: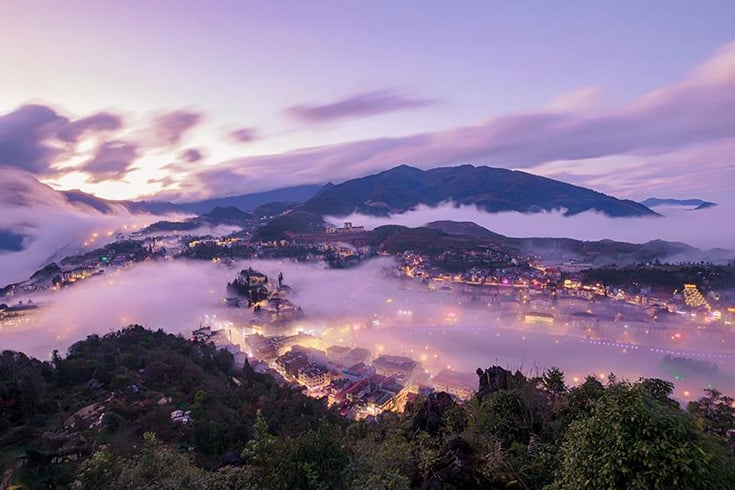 1. Enjoy a Panorama View over Sapa Town
Ham Rong mountain is an ideal destination for those who wish to conquer a height and admire the beautiful and wild nature of a mountainous area with the clouds drifting above. To reach San May (Sân Mây – Cloud Yard) where you can enjoy the view at its best, you have to walk through many stone steps and a winding trail. Once conquering San May, the summit of Ham Rong Mountain is at an altitude of 1800 meters, you can enjoy the stunning and magnificent view of Sapa town. At this altitude, it gives you the feeling of the interference of heaven and earth where you can even touch the gentle clouds.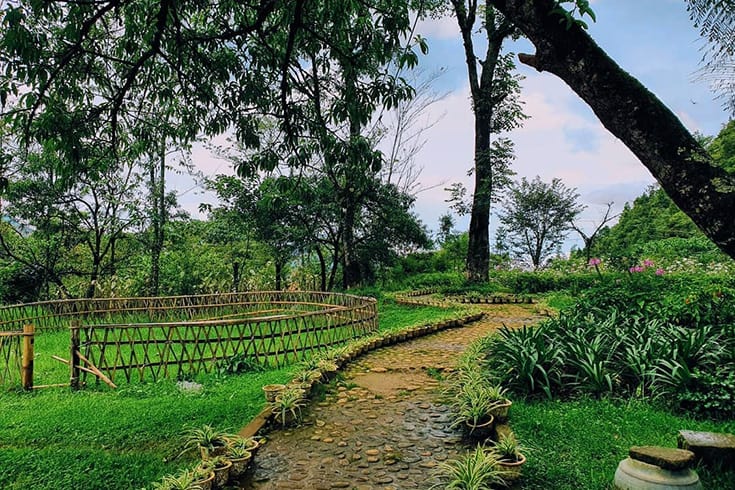 2. Visit Ham Rong Flower Garden
Calling all anthophiles, Ham Rong Flower Garden is a worthy visit with bright-colored flowers in the foggy air and sweet fragrances. If you are tired of uneven grounds, don't worry because the garden is nicely paved and stairs are provided. The steps may be a bit steep but it is easy to climb. It will take you about three to four hours to complete the entire path to the peak but it just takes less than 30 minutes to walk to Ham Rong Flower Garden.
The garden is well designed according to the natural terrain of the mountain. The landscape spreads out in front of your eyes with a great variety of flowers in a brilliant miniature Sapa. Besides, you also can see a multitude of different colorful flowers like azaleas, orchids, roses,…along the road to Ham Rong mountain. Some people even feel like being immersed in the Flower Valley of Dalat.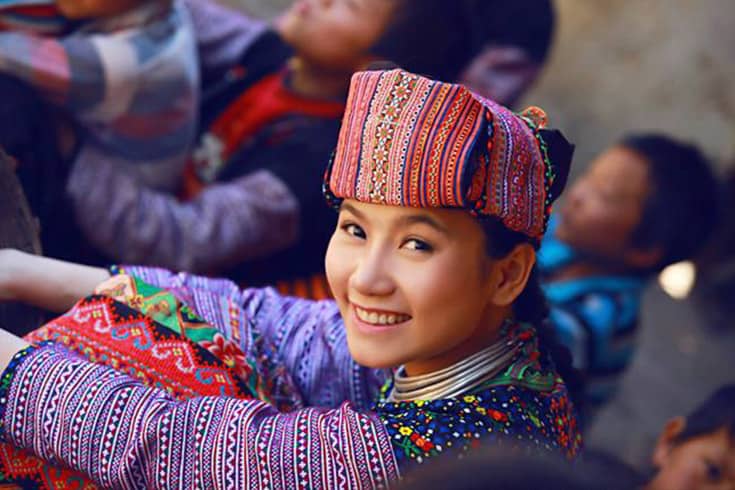 3. Wander around Love Market
Right near Ham Rong and next to Sapa church, there is a unique and exciting Sapa weekend market called Love Market. It is a unique culture in Lao Cai and attracts not only local people but also many domestic and foreign visitors. Taking place every Saturday evening, the market is so crowded with people from all the villages coming to meet. It is always bustling with the enchanting dances of the girls, shabby dresses, and the charming heart of the village boys. They meet, they chat, they dance, and the market becomes where the love begins.
Love market is not only for love. Like other markets in Sapa (including Bac Ha Sunday Market), you can find various goods and souvenirs. Shopping in Sapa will be one of your unique experiences that you can see the beauty of this mountainous land, listen to lovely songs, and hear interesting stories from old people from surrounding villages. So if you have time, you could add the market to your itinerary.
4. Heaven Gate
Heaven Gate is a familiar name to anyone who travels to Sapa. It is the highest peak of the road of Vietnam where you can admire the top of Fansipan Mount. From here, you can look over the vast valley below with the green rice fields, the long roads with vehicles going up and down, and Silver Fall – one of the top 10 most beautiful waterfalls in Lao Cai. Recently, the Heaven Gate becomes more attractive for tourists to enjoy the spectacular view of Hoang Lien Son range. You can clearly feel the grandeur of Fansipan Top with the deep chasms, mysterious primary forests below.
After going up Heaven Gate, you will know that Sapa is not only famous for its beautiful scenery, terraced fields but also it wild and peaceful beauty.
Best Time to Visit Ham Rong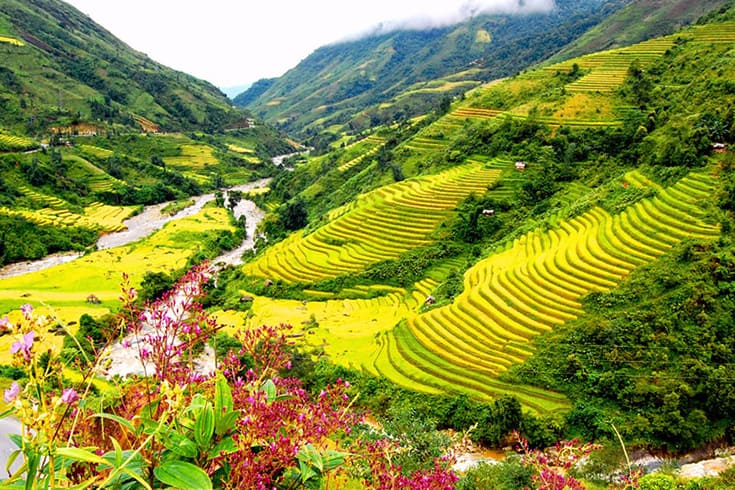 Ham Rong mountain has a distinct color in each season that cannot be mixed.
But the most appropriate time to visit Ham Rong is spring, from January to April. It's when all the blooming flowers show their fragrance and sweetness, small streams glide through lush trees, and the mountains become more majestic. These create a poetic beauty of this mountainous area that you will never forget.
How to Get to Ham Rong Mountain
There are some different means of transportation to travel to Sapa town from Hanoi.
1. By Coach
This is the easiest and also the most popular means of transportation that tourists often choose. There are many buses running between Hanoi and Lao Cai and it takes around 5 to 6 hours to arrive in Sapa.
If you are wondering which car firm you should choose, you can look for one in this list: Sao Viet, Sapa Express, Phuong Nguyen Limousine, Green Bus, Eco Sapa Limousine.
There are two types: seats and beds. The car fare is different and ranges from VND 240.000 to VND 350.000.
2. By Train
Although travel time is slower than cars and motorbikes, using the train to get to Sapa is an exciting experience for travelers. It is safe, convenient, and economical as well. Ticket price varies from VND 155.000 to VND 3.816.000 depends on the type of cabin: seat, shared sleeper cabin, or luxurious sleeper cabin.
3. By Motorbike
Because the road is quite long, more than 450 km, it will take you more than a day to arrive in Sapa. From the center of Hanoi, you follow National Highway 32, go through Phu Tho, Yen Bai, and Lai Chau provinces. At the end of the Binh Lu crossroad, then follow 4D Highway to reach Sapa.
Tips on Visiting Ham Rong Mountain
Don't give money, candy for children or buy anything from them. Because they don't like to go to school, you can please give them some books or pencil.
Do not put your camera close to children's face to take photo. If you want, please ask them first.
Though the road to Ham Rong mountain is not too difficult, it is also a long run. So it's better to bring 1 or 2 water bottles.
There are some shops along the way to the mountain, but the price will be higher.
Prepare warm clothes because Sapa is the place with the coldest climate in Vietnam, the average temperature falls between 15 and 18 degrees Celsius.
Ham Rong is truly an amazing place that decorates for the painting of Sapa scenery. It would be a miss if you don't add it to your itinerary.