For tourists who have ever set foot in Sapa, one of the most famous attractive destinations in the Northern, it is sure that they are familiar with Muong Hoa valley, which is usually mentioned by beautiful names such as the Eden in Sapa or a hidden pearl behind the mist, where tourists can find the most beautiful view of terraced fields in Vietnam.
Location: Hau Thao Commune, around 10 kilometers from the South East of Sapa city
Price: 80,000 VND/ticket
Suitable for: everyone

I. Highlights of Muong Hoa Valley
Muong Hoa Valley has its reputation for majestic nature, picturesque scenery, and colorful multi-culture of many ethnic minorities there.
Muong Hoa Valley is surrounded by high mountains standing side by side in Hoang Lien Son mountain range with craggy terrain and having Fansipan – the roof of Indochina; therefore, this land is not nearly under the impact of modernization and remains almost pristine beauty of nature. Highlights of the valley are Hoa stream (flower stream) with a length of 15 kilometers and large terraced fields along the mountainsides. From above, that Hoa stream flows around terraced fields piled up like waves alternating small brown stilt houses creates such a poetic scene making a great impression on every tourist that terraced fields in Muong Hoa Valley are voted to be one of the most terraced fields all over the world.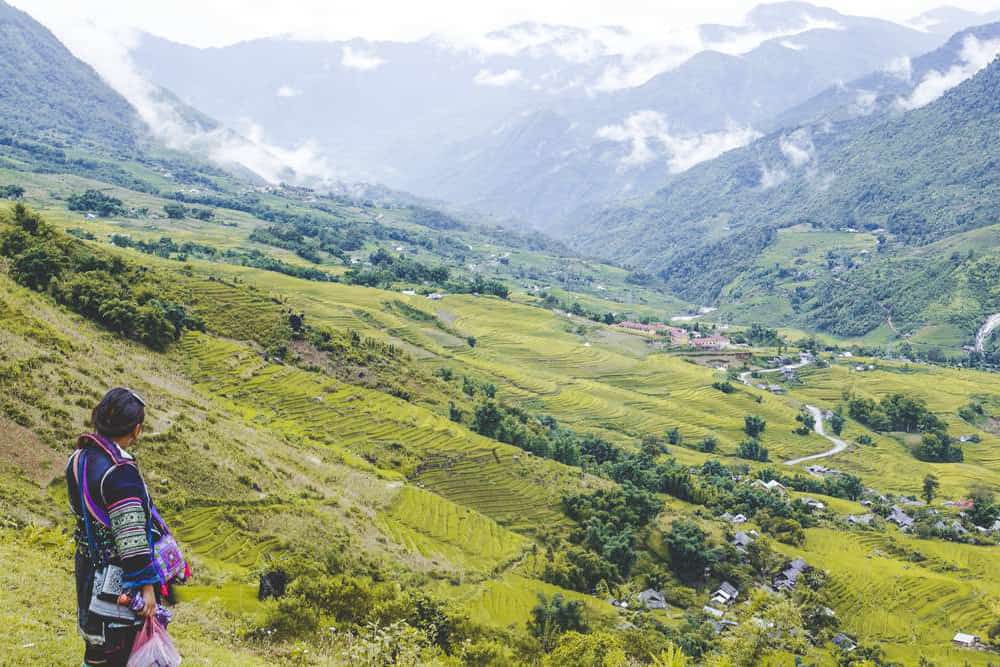 Muong Hoa Valley always has a special attraction for tourists at any time in the year. In spring, covering the valley is the thick mist in the early, which makes a magical scenery like a winter morning in London. The mist will dissolve gradually at noon when the sun rises to show up the white of kachnar blossom forest, the typical flower of the spring in the Northwest.
When summer comes, the valley will turn into the fresh green of young rice. When summer is coming to an end, it is time that rice gets ripe and terraced fields will turn yellow in autumn. This may be the most beautiful moment of Muong Hoa Valley in a year and also the best time for tourism. Replacing the golden terraced fields, the valley is covered with the white, pink, and violet of buckwheat hills from October to November, which has attracted many young people to visit recently. Especially in December, domestic tourists will have a chance to see the snow, which is rare in almost all provinces in Vietnam as well.
Besides beautiful majestic pristine scenery, the other attractive point of Muong Hoa Valley is the colorful multi-culture of the ethnic minority community living there such as H'Mong, Dao, Tay, Giay, etc. They have lived peacefully for thousands of years and built separate unique festivals and customs and habits for themselves, which makes Muong Hoa Valley become famous for its historical value as well. Researchers and scientists found a lot of rocks in the valley which is defined as dating back thousands of years and carved with strange shapes that are regarded as traces of the ancient people. Now, tourists can see those rocks easily on the way to visit Muong Hoa valley.
II. What to Do and How to Get to Muong Hoa Valley?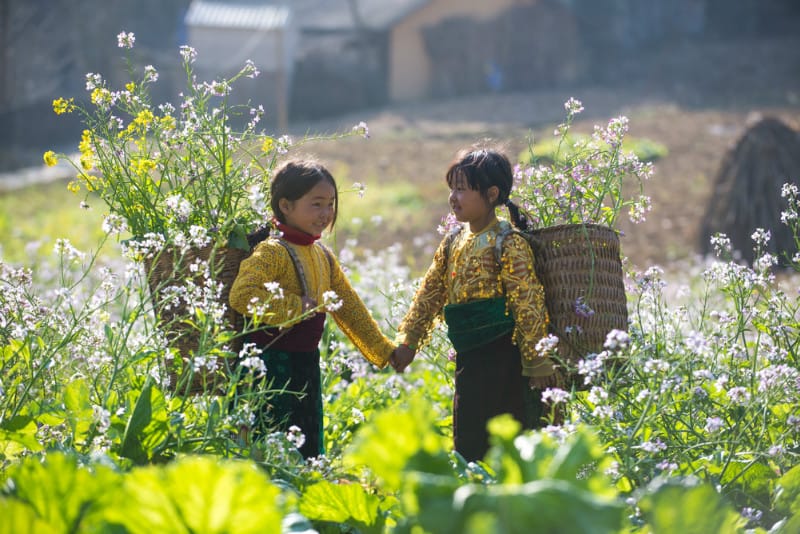 1. Go Sightseeing in Muong Hoa Valley
There are two ways to visit Muong Hoa Valley. One is to ride a motorbike along highway 4D and the other is to go sightseeing by Muong Hoa mountain train.
To reach Muong Hoa Valley, tourists will go over a pass road about 10 kilometers from Sapa City. The pass road is quite rough so it requires tourists to be skilled drivers; however, it is extremely worth having such an exciting experience. The road pass is quite narrow with sharp turns, lying in the middle of the mountain where tourists can touch the cloud, one side is high mountains with majestic scenery while the other is abyss. Although this way is more dangerous than the other, it is well-liked by the young and foreign tourists who have adventurous favorites.
For tourists who would like to go sightseeing in a comfortable way, Muong Hoa mountain train will be the best option at an affordable price. The train was constructed and put into operation from 2018, which shortens the distance from the center of Sapa to Fansipan Cable Car Station to 6 minutes and gives visitors an overview of the majestic beauty of Muong Hoa Valley and the northwest forests and mountains from above at the same time. Particularly, the interior is decorated like classic European carriages, which gives tourists luxurious experience. The ticket price is only 200,000 per adult and 150,000 per child (two-way ticket) regarded to be cheaper than the interesting experience the train brings to visitors.
2. Visiting Ethnic minorities, Taking Part in Their Festival
Only for tourists to choose to pay a visit to Muong Hoa Valley in months in Spring, they will have chances to take part in traditional ethnic minorities' festivals in which there are many strange interesting things and games.
III. Best Time to Visit Muong Hoa Valley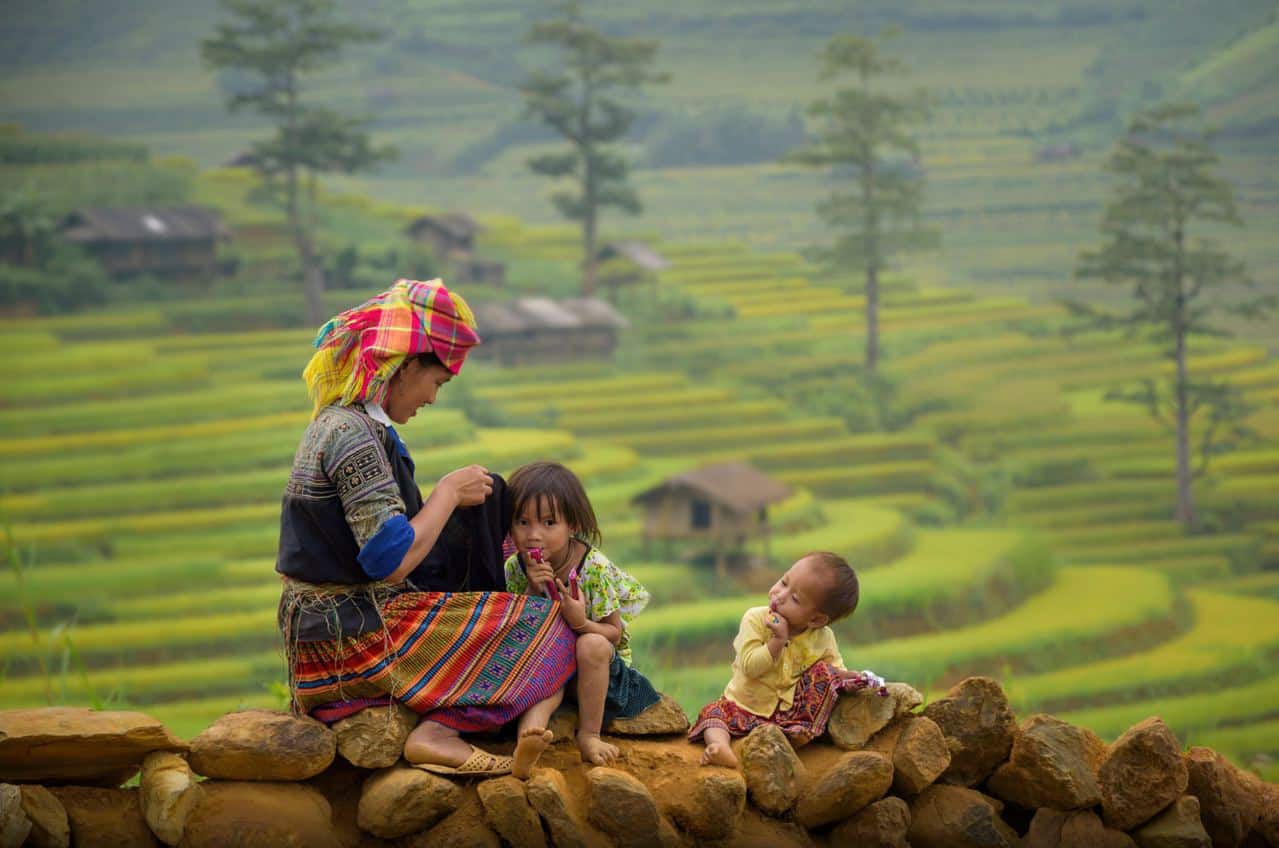 In each season, Muong Hoa Valley always has its own unique beauty making tourists unforgettable; however, there are three times in a year that they can take a view of the most beautiful sceneries in Muong Hoa Valley.
From March to May: At this time, the weather in Sapa is cool and very suitable for visitors to discover the valley. It is also the time when Sapa has a stable climate. The climate is quite warm in the day and gradually becomes cold when the night falls down. The terraced fields in the valley this time were covered with a cool green color.
From September to November: This is the time popular by many tourists because this is the time when the terraced fields are wearing a brilliant yellow coat. The whole valley is like brightening a sky of ripe rice color, the aromatic rice scent blends into the peaceful space, the sweet scene that anyone should admire once in a lifetime.
December to February: Visitors can watch the romantic snowfall in the valley and enjoy the strange cold of the Northwest highlands.
IV. Frequently Asked Questions about Muong Hoa Valley
Could we stay overnight at Muong Hoa Valley?
Yes. There are some homestays in or near Muong Hoa Valley at a cheap price that you can choose to stay overnight and experience life with the locals. However, it is sure that the infrastructure can not be as convenient as the hotel in Sapa city. Moreover, the distance between two destinations is quite near, you can book a room in hotels in the city and spend a half-day to visit Muong Hoa Valley by motorbike or by mountain train.
Which clothes should we bring?
Even in the summer, at night, the temperature in Sapa is so low that people have to wear a coat to keep warm; therefore, if you pay a visit to Muong Hoa Valley in summer, besides summer clothes, you had better a coat in addition. And, if you pay a visit to others, that is obvious.
Can we rent a motorbike to Muong Hoa Valley?
You can rent a motorbike in Sapa easily to travel to Muong Hoa Valley. The price is only 80.000 VND – 100.000 VND per day; however, make sure that you can use and ride professionally your rented bike before starting riding a motorbike to the valley.