The reason Sapa always fascinates a large number of visitors is its splendid scenery with deep green valleys, bamboo forests, and traditional villages. Perhaps bustling life with noise and superb shopping malls are too similar to many people, sometimes we just want to find quiet places to relax and enjoy our solitude. In such cases, visiting Tram Ton Pass (đèo Trạm Tôn), aka O Quy Ho pass (đèo Ô Quy Hồ), will be an excellent idea to feel the uniqueness.
The Legend of Tram Ton Pass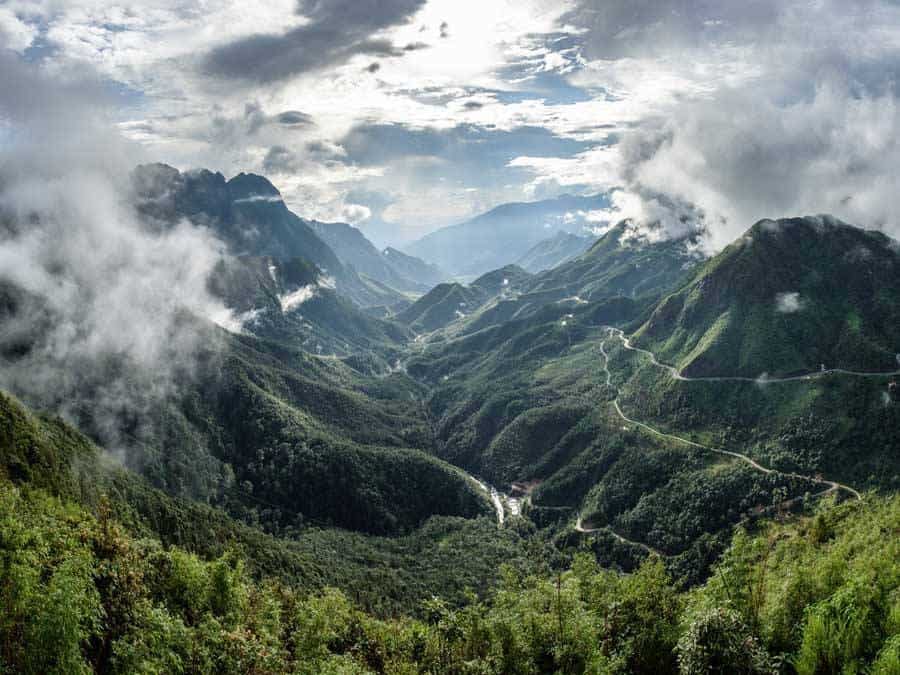 Most tourists know the pass with the name O Quy Ho, but Tram Ton is an official one. Local people often call Cong Troi (means "Sky Gate"). This proves that Tram Ton Pass is extremely high and close to the cloud. According to an oral story, the pass attaches a love legend of a couple. They fall in love with each other, but they can't come together to create a new family. Because of nostalgia, a young woman suddenly turns into a yellow bird.
Day by day, the birch perches on the top of the pass and cries out endlessly the name "O Quy Ho"(the name of her beloved person). Besides, Hoang Lien is very Tram Ton Pass because it penetrates Hoang Lien Son Mountain. These days, many routes are upgraded to attract a lot of backpackers. The craggy turn is always the challenge to long distance drivers. With staggering height and length, Tram Ton Pass deserves the King of the Northwest pass.
Best Time to Visit Tram Ton Pass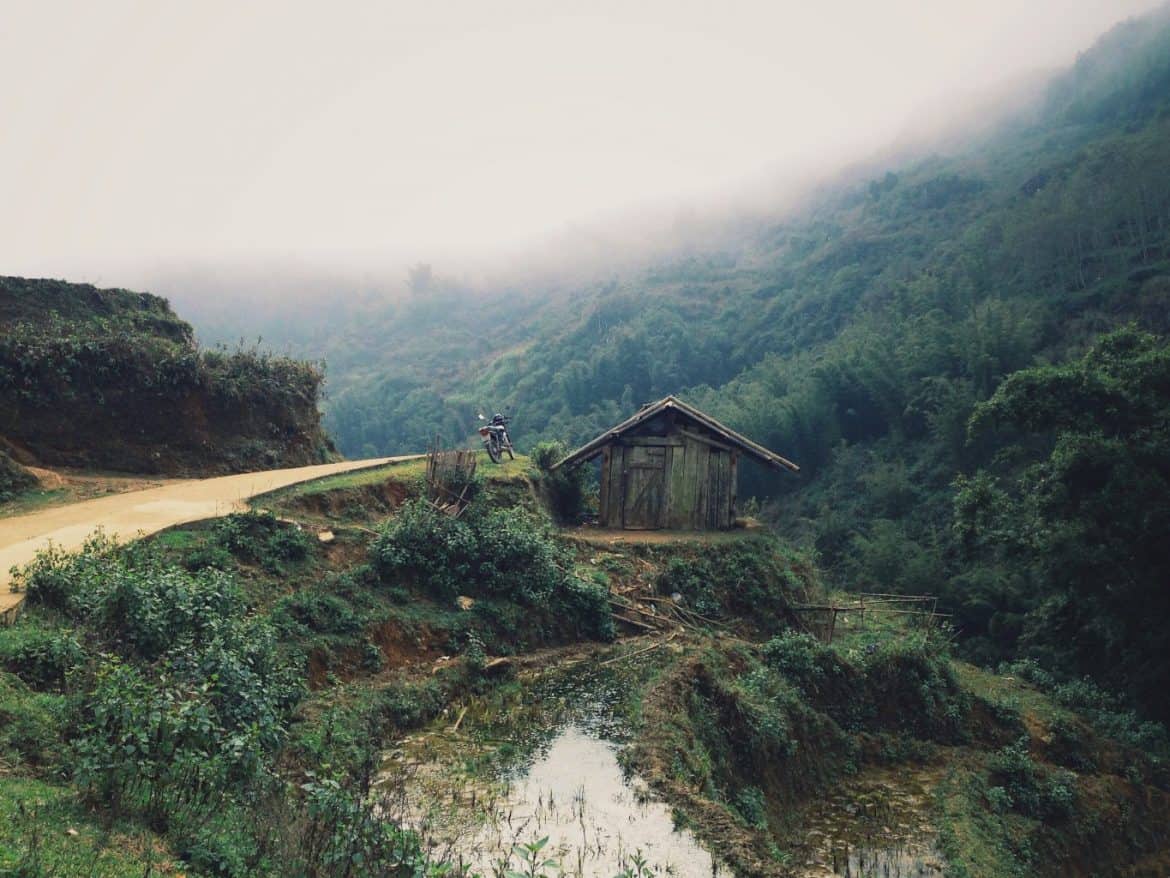 Lao Cai belongs to a tropical climate, so summer and winter will be great seasons for a nice trip. In summer, it is temperate and mild for visitors to go backpacking and wallow themselves in a cool space. If you want to know what time is the best to visit Tram Ton pass, then it will be about 10 am and in the twilight. Above all, the vivid picture can be easily visualized in the sunset. The sun gradually goes into white clouds and leaves pink lights in the blue sky. Standing on the top of the pass among an immense space, you will feel as if you have broken a record.
Perhaps the scenery somewhere is bleak and tedious in the dead of winter. In contrast, Tram Ton Pass will be full of crowds in the winter. Most tourists get stunned when they take a view of a snow-capped mountain landscape. Snowflakes cover dark green vegetation and roads in Tram Ton Pass, which is so attractive and breathtaking when you see from afar.
Highlights of Tram Ton Pass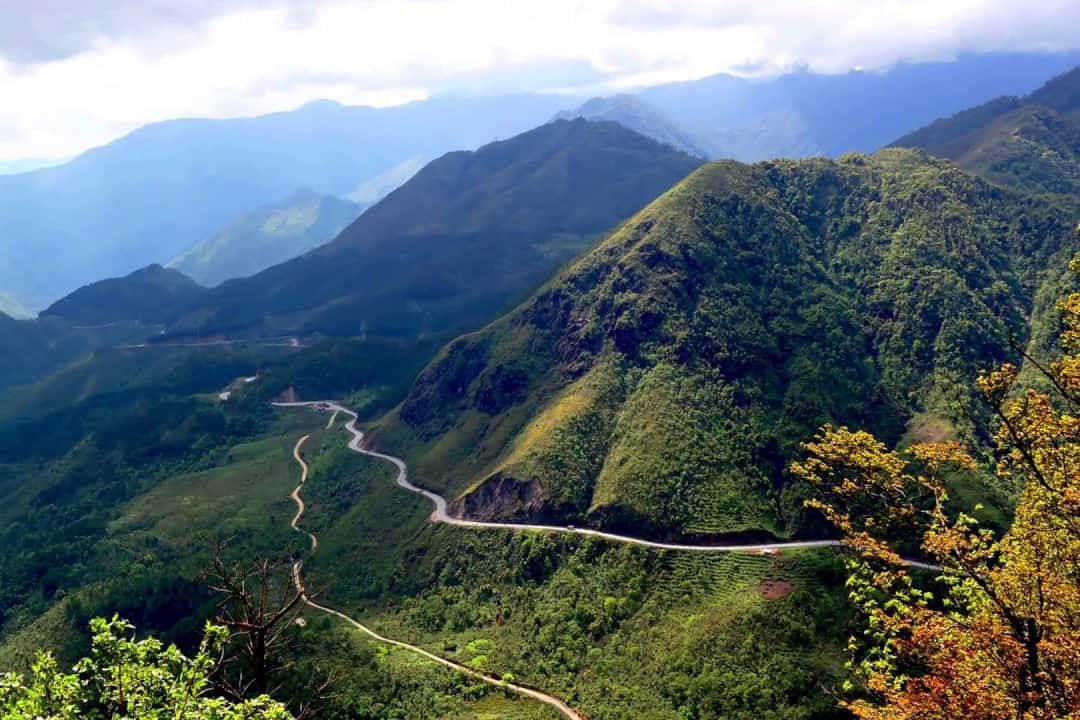 Tram Ton Pass will provide you with a relief from your hectic schedule because it is a place of serenity and tranquility. It is not hard at all for you to see the clouds floating on the top of the pass. Tram Ton Pass is considered "the bridge" combining Lao Cai with Lai Chau Province. Therefore, it brings features of both areas which makes countless visitors fascinated at the first sight. Many poets and artists are so infatuated with its seasonal beauty to create unique works. As mentioned before, the pass will be filled with snowflakes on cold days. When the sun wakes up from clouds, its rays seem to have gone through thick layers of snow. There is nothing more wonderful than seeing plants slowly rise from those layers. In the summertime, tourists can mingle themselves in "a green space" with sky, mountain, and trees. Take a seat on the pass and look at the clouds, and you will feel yourself being in harmony with the natural world.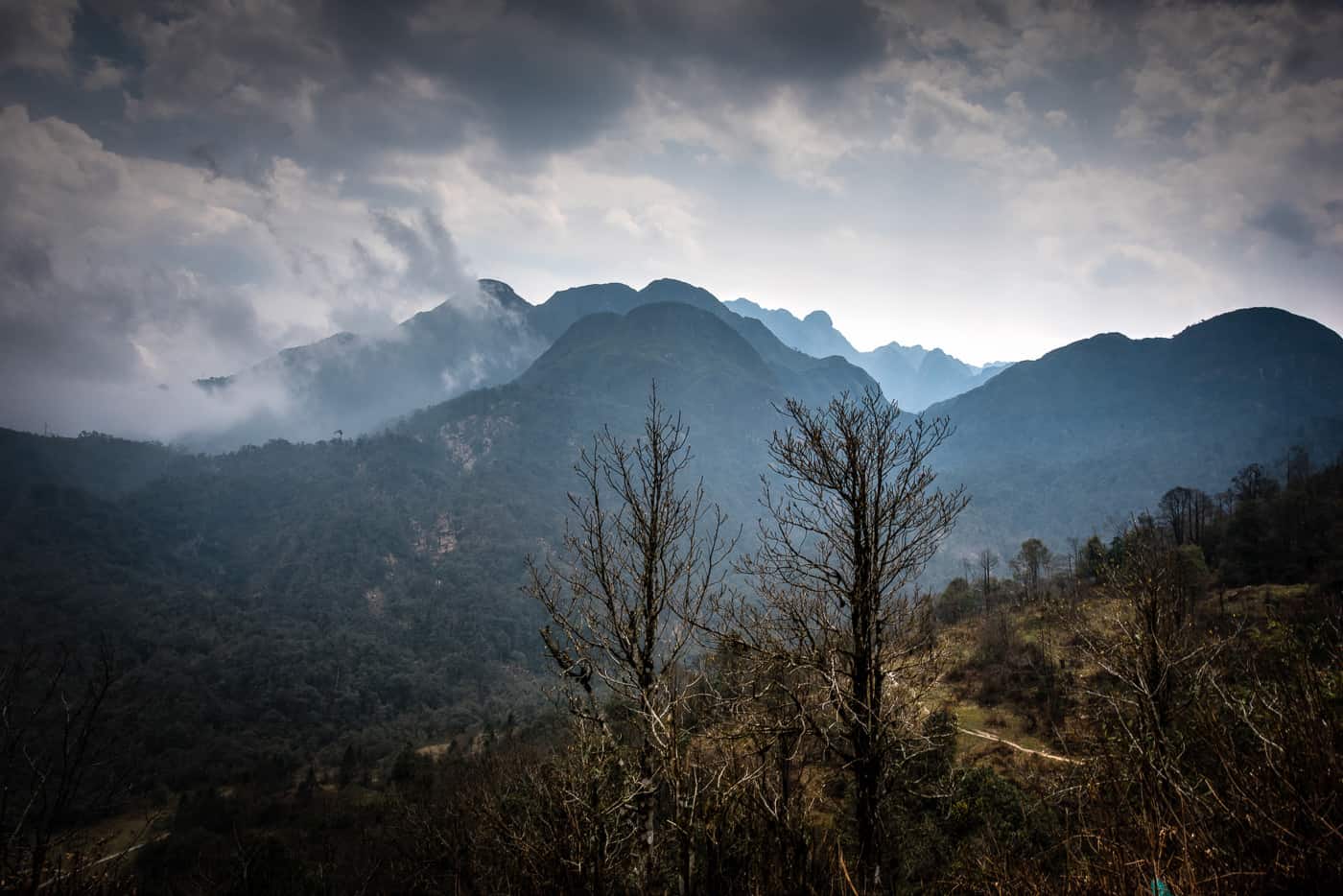 What is more interesting, on a nice day, from the top of the pass, visitors can take a panoramic view of "the roof of Indochina" (Fansipan Mountain), which lies on the lush vegetation carpet. Besides, tourists shouldn't miss the chance to see a panorama of deep green villages. From the lens, a wide view of yellow rice paddies or large buckwheat flowers can be zoomed out.
What to Eat in Tram Ton Pass?
If you call at Tram Ton, there will be an ample opportunity for you to try out the cuisine here. All foods have a special feature in the Northwest area with some indispensable dishes such as grilled fish, five-colour sticky rice, stewed lean meat, salmon hotpot, so and so. The interesting thing about dishes here is a nice mixture of natural ingredients and local recipes. Hence, when you enjoy all of them, you won't forget the typical flavor.
Besides main dishes, junk foods are available such as baked sweet potatoes, corn, and bananas. Many tourists buy those foods in the eatery and take them away. They choose the best position in the pass which may be a rock slab or in the motorbike. While they are eating snacks, they can listen to the similar sounds of rustic and simple life.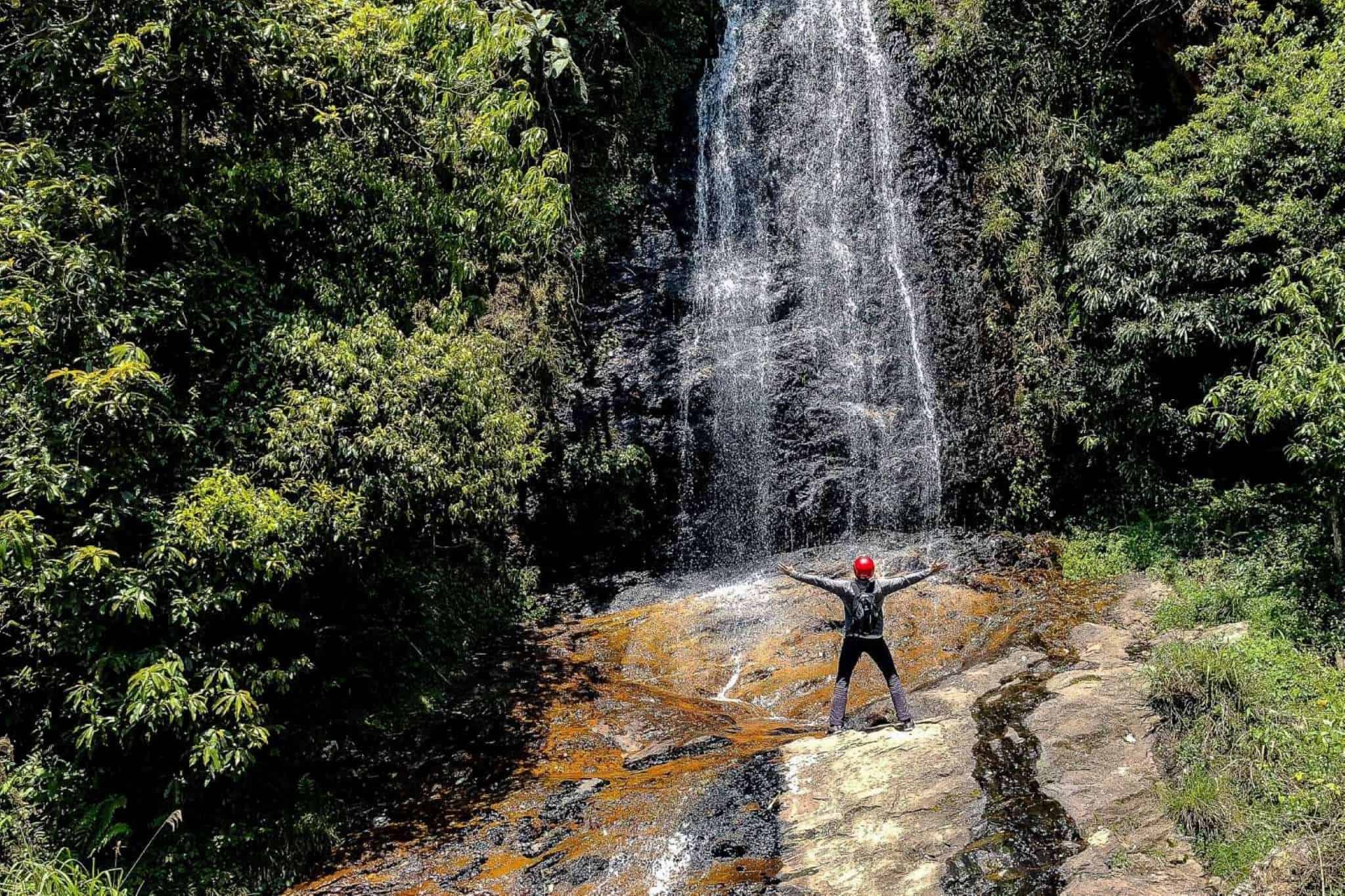 How to Get to Tram Ton Pass?
From Sapa Town, it takes about 15 minutes to reach Tram Ton by taxi. You go forward to the Southwest of Xuan Vien Street. You continue traveling until you see Binh Hang mobile phone store, then turn to the right. When you see Yuri Restaurant on your left, then turn to the right to reach Thac Bac waterfall. Next, you turn to the left at Sapa Villa across Sapa Summit Hotel (on the left). When you get to Thac Bac, turn to the right at the US Hotel across Sapa Radio Station (on the right). And then you turn to the left on the 4D highway. Finally, you go across O Quy Ho Kindergarten (go straight 5.8 kilometres or so).
However, traveling by motorbike will be an exciting idea if you yearn to discover the landscape on both sides of the road. The charming picture of uneven limestone mountains and emerald rice paddies will make you be on the ball. Looming small villages will reflect the simple lifestyle in the Northern part of Vietnam.
Coming to Tram Ton Pass will be an occasion to adore the imposing landscape and enjoy yummy foods. Only when you drop in, do you understand and appreciate how great it is.