As a popular cheap shopping place throughout Asia, nitght market is no exception in Vietnam. Hue night market and walking street are of special fascinations in Hue combining both long-standing traditional culture and modern style favorited by young people.
There is some confusion between the Hue night market and Hue Walking street. Hue Night Market is located on the riverside of Perfume River (Huong River), while the Hue Walking street is settled along Vo Thi Sau street and two other adjacent streets. This walking street is one of amazing things to do in Hue at night.
Cannot wait to discover this place by yourself? Then, read on this article to know about Hue night market and walking street.
1. Hue Walking Street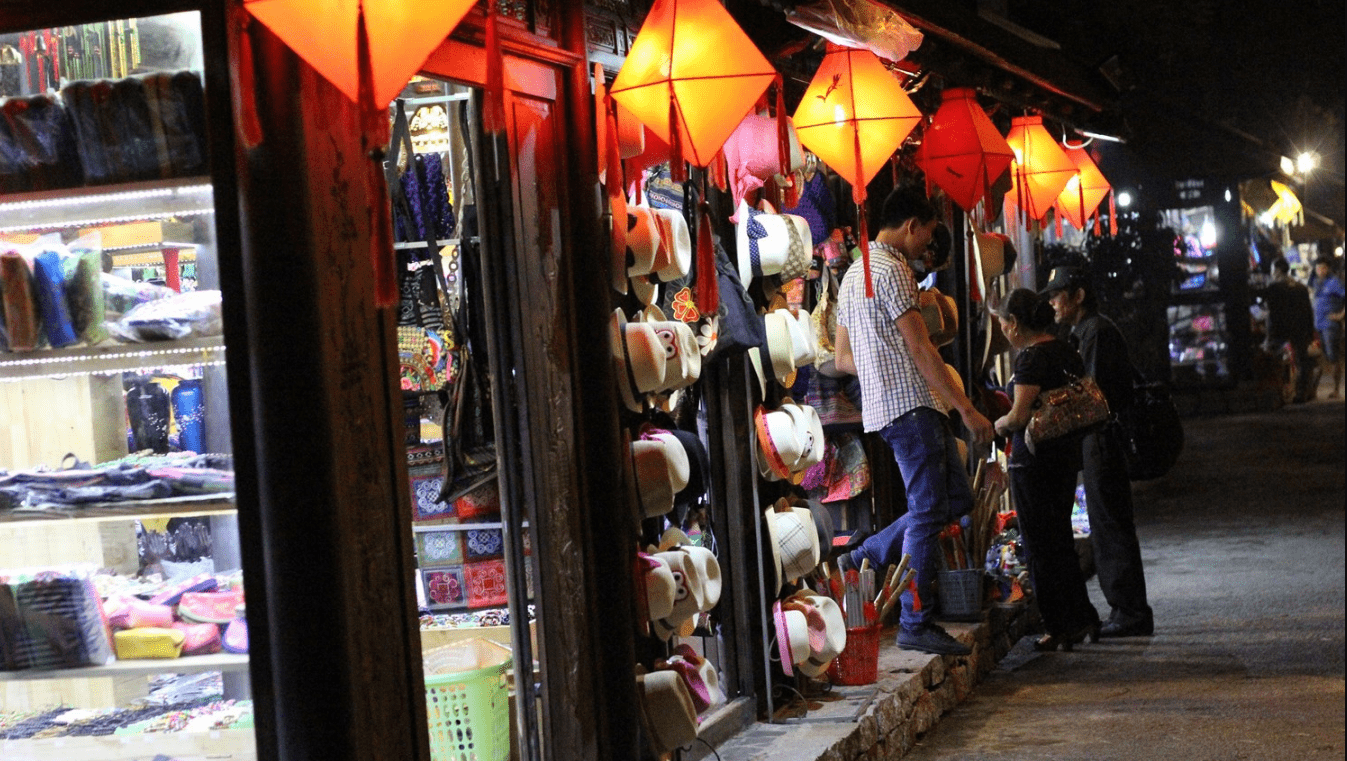 With the opening of Hue walking street, the atmosphere of Hue has become much more noisy and exciting, in a good way. This is seen as a decent place for both foreign and residential sightseers to enjoy and taste delightful street food in Hue, purchase eye-catching keepsakers, see several conventional craftsmanship exhibitions, or just simply feel the locals' nightlife. The walking street has still kept its traditional and antique decoration and goods.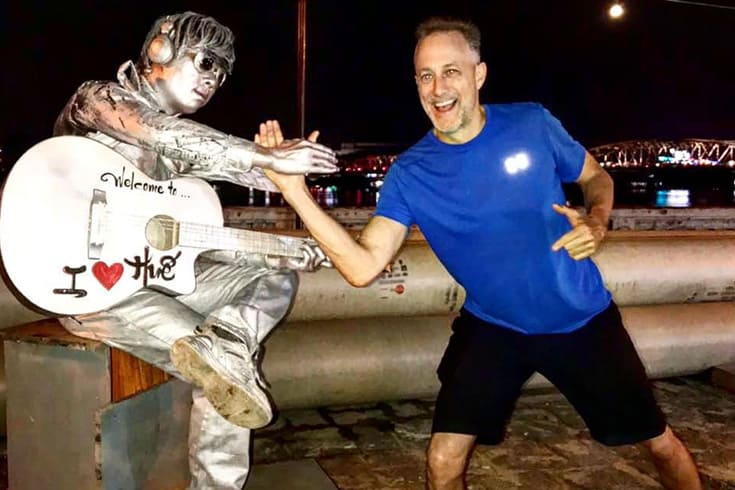 Combined with Trang Tieng bridge, the one-kilometer-long Hue walking street becomes an ideal spot for tourists to visit during nighttime in Hue.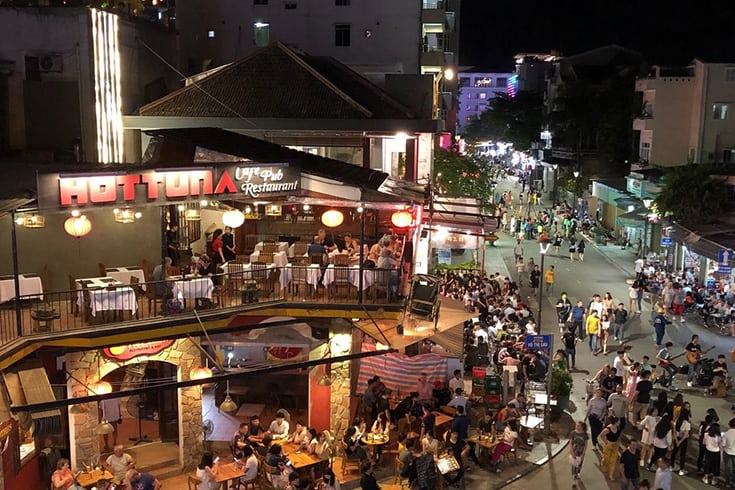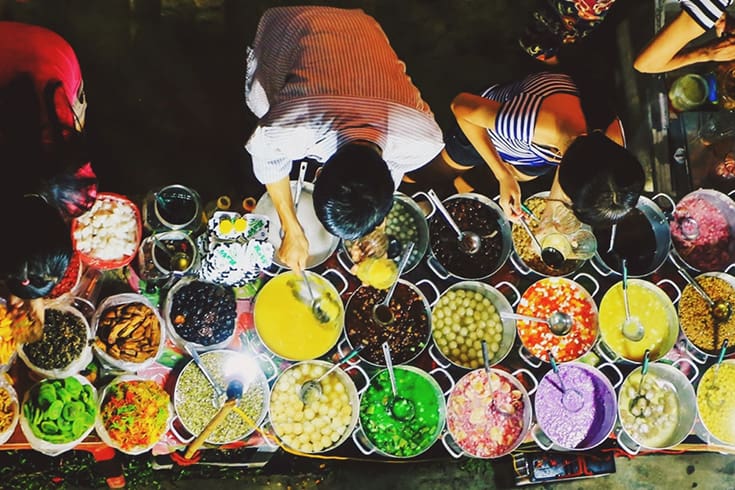 Those people who are foodie may hardly ignore street food vendors, restaurants and food stalls around Hue walking street which will surely fulfill their taste. Do not skip some rustic dishes namely Banh Beo cake, Zona cake, mussel rice, (Com Hen Song Huong), sweet soup, etc. Indeed, if looking through for the first time, the walking street in Hue looks a little bit like the Old Quarter in Hoi An old town.
Location: Pham Ngu Lao – Chu Van An – Vo Thi Sau streets, connecting to Nguyen Dinh Chieu street
Opening hours: 5 PM to 11 PM
2. Hue Night Market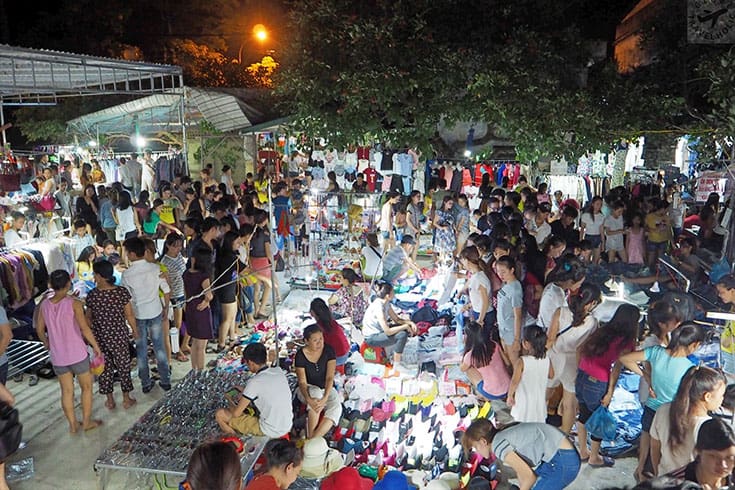 A night market is a great place to enjoy both fresh air and special Hue food. Hue night market is suitable for people to walk and explore the beauty as well as cultural value inside. It comprises a row of 11 ancient houses along with vendor shops.
At the market, there are many things you can do, such as going alone, with friends or family to enjoy Huong River's fresh air, joining in amazing street performances and activities like hiphop dance on street, seeing a royal show and getting on dragon boat on Huong River. Along two roadsides of the market, artists devote their own time with skillful hands to give customers the best pictures.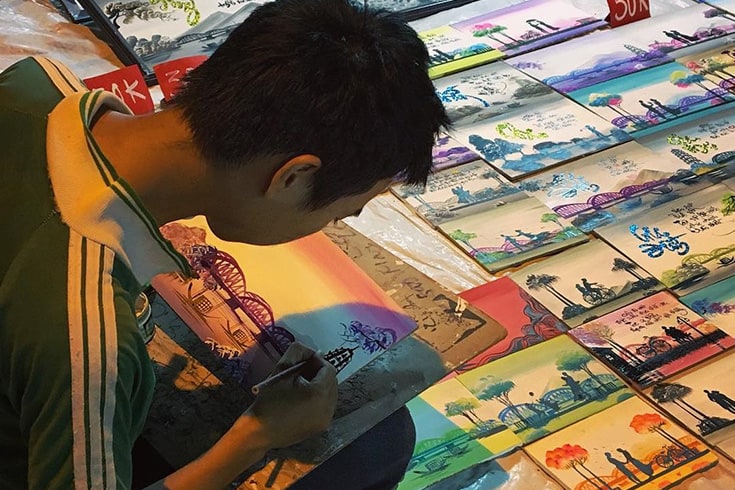 Hue night market attracts a large number of travelers during Spring since there are many festivals on this occasion so people decorate their stores in a special style. During traditional holidays, you could also marvel at some outstanding traditional art performances.
When you are indulging yourself at Hue night market, spend time getting on dragon boat, which is one of the most popular means of transportation in Hue used for royal families in the past. These days, this activity has been turned into an entertainment service occuring from 8 am to 11 pm daily. By using this service, you can also have a chance to listen to Vietnamese traditioal folk song sung by local fishermen in their spare time.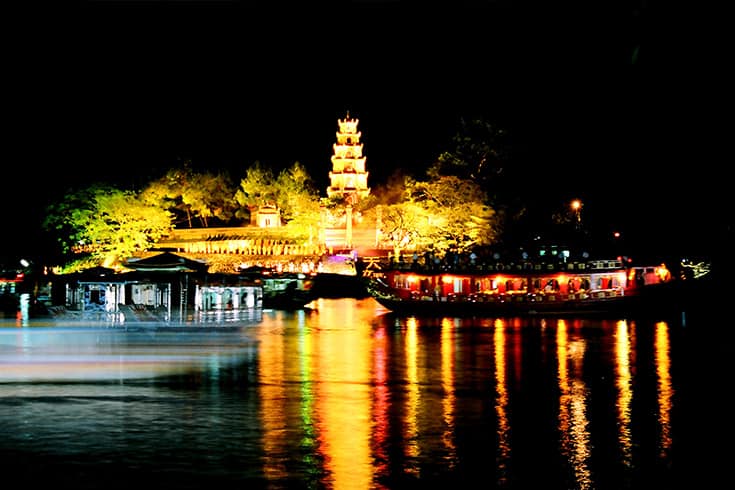 If that weren't enough to inspire you to visit Hue night market soon, then a royal show may be inspiring enough. This activity is ideal for people interested in historical and cultural values. In this show, tourists can understand more about the King's history and customs of Hue royal city. So many traditional clothes sewed by professional designers throughout the country are performed in this show. You also have a chance to know more clearly about the meaning of symbols embroidered on costumes by joining a Hue night tour with local female tour guides.
Location: along Perfume River
Opening hours: 5PM – 11 PM
Tips on Shopping at Hue Night Market
Upon shopping in Hue Night market, do not forget bargaining. The bargain is generally not popular in western countries, but is really common in Vietnam.
You can find high-quality handicrafts as well as souvenirs in Hue night market. Some beautiful souvenirs are palm-leaf coconut hats, traditional clothes, brocade, etc.