If you are a fan of history, you shouldn't miss the last citadel of Vietnam, which is located in Thua Thien Hue province in central Vietnam. 2000-year history seems to boast a number of interesting facts and mysteries that can be partly depicted through artifacts and constructions. Purple forbidden city (also known as Tu Cam Thanh in Vietnamese) is one of them. Read on to know more about this historic tourist area in Hue, Vietnam!
1. History of Purple Forbidden City
The feudal time of Vietnam has gone through a lot of historical ups and downs, the last dynasty, Nguyen Dynasty draws the attention of not only Vietnamese historians, but also visitors from all over the world. Nguyen Anh ascended the throne in 1789 and decided to assign Hue as the capital city until it ended with the Proclamation of Independence of the Democratic Republic of Vietnam in 1945.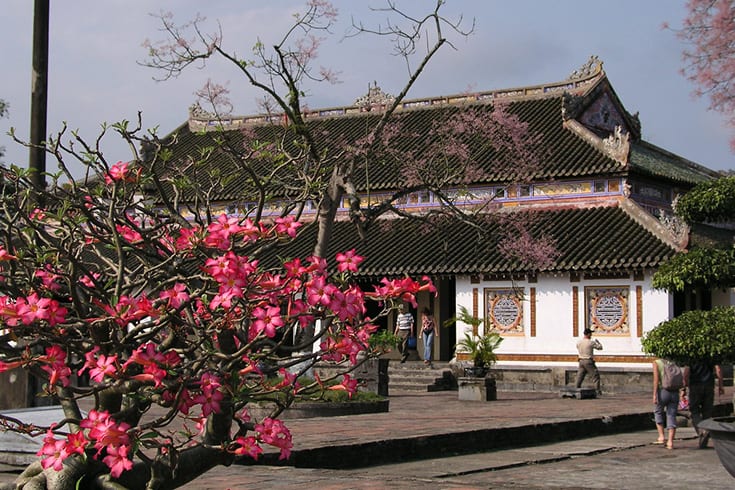 Nguyen Anh had the Imperial city built by thousands of workers in 1804, surrounded by a 10-kilometer moat, 2-kilometer rampart and thick brick wall. It includes 3 rounds of enclosures, like any former kings did, Kinh Thanh (the outermost layer, for all commoners), Hoang Thanh ( the second layer protecting all the most important buildings and where loyal ceremonies took place), and Tu Cam Thanh (Purple Forbidden City- the innermost layer where just the loyal family, the emperor's concubines and servants could enter).
Purple Forbidden City might remind you of the one in Beijing, regarding the name and function of the construction. It was, in fact, meant to be inspired by Forbidden City of Beijing with slight differences. Hue Purple Forbidden City was vast and charming until, however, mostly destroyed by wars and hardships, mostly when endless battles of the French burnt down the core structures and the 1968 Rebellion . What's left were few buildings, the palace ground, and pictures of designs and lifestyle at that time. Vietnamese government has been trying to refurbish and restore the artifacts and remains, in order to provide the most real and informative image of the citadel.
2. Highlights of Purple Forbidden City
One of the most long-lasting values is definitely the architecture. The Forbidden city was built under the supervision of the most skillful architects and feng shui experts. While the Beijing one faces the true south, which is considered the direction of prosperity and harmony, the palaces in Hue face the southwest, directly to Huong river, so as to optimize the energy flow and combination of Earth-Water.
Forbidden city means all commoners were forbidden from getting in, let alone eunuchs and … who were chosen to spend their whole life serving the emperor and his wives. It covered an area of about 520 ha in rectangular shape, the surrounding wall was made of the hardest kind of brick called "gach vo" and 0.72 meter thick. There were about 50 constructions, which were the emperor's daily life places, meeting palace with mandarins, book room, concubines' palace, worship places, entertainment places such as pools, gorgeous flower gardens or tea-drinking houses. which contained all high-end objects, some even made of pure gold. The number of palaces were different between reigns some kings preferred luxury and had special hobbies, they built a magnificent opera house or palaces just for playing games.
The life of his concubines was convenient and fulfilled as well. There are 9 levels of concubines, which determined how comfortably they lived and how powerful they might become. As a result, they fought so hard to get the love of the emperor. In the beginning, they had to learn by heart all the rules and ceremonies of the royal families, skills including dancing, communication and standard clever gestures and how to satisfy the king. However, they had no voice in making decisions, no participation in the king's work, and no refusal to the death once making mistakes. Even when the king passed away, they were supposed to take care of his tomb before coming back to the palace to serve his Mother and never able to get married again; which seemed to be a harsh life.
3. What to See at Purple Forbidden City?
Nowadays, unfortunately, not much was left. The beautiful modern palaces are now crumbling remains overgrown with weeds. Taking several steps, you can see their costumes and daily used things in a house recently built by side. Some, obviously, exposed both Asian and Western features because the kings in the Nguyen Dynasty were deeply affected by long-time study in France.
It's absolutely worth taking a visit in the whole complex, and utilize your imagination to get the haunting but charming vibe of the Forbidden city. After that, you can you're your way to the Tomb of King Minh Mang, Huong River, Thien Mu Pagoda and Dong Ba Market to feel the current living flow of Hue locals.
4. What to Eat at Purple Forbidden City?
The once citadel of Vietnam is home to a huge range of delicious dishes which will never disappoint you. If Hanoi has been well known for Bun Cha, vermicelli noodles with pork and sour- sweet sauce; Hue owns the origin and brand of Bun Bo Hue, vermicelli noodles with bean sprouts and coagulated pig's blood, which is a perfect combination of spicy, salty, and umami flavors.
Going in second highly recommended should be a list of dumpling including Banh Khoai (a type of pan-fried crepe of shrimps and pork eaten together with fresh vegetables), Banh Loc (a tapioca flour-based dough with the same stuff ), Banh Beo ( a sweet mixture of rice flour and tapioca flour with dried shrimps and crispy pork skin) and Banh Ram (a crunchy deep-fried sticky rice paste). What's more, clam rice and clam noodles have long been popular because they are incredibly cheap, tasty and full-flavored as pork rind, shrimp paste, raw vegetables, banana flowers, bean sprouts, small white taro, and peanuts are all well mixed up. There is even a floating alluvium named Con Hen (Clam alluvium), where a thick layer of mud in the bottom grows the best quality clams.
5. How to Get to Purple Forbidden City
As mentioned above, Purple Forbidden City is a part of Hue Citadel located in the center of Hue City. Hue is about 100 kilometers from Danang, which takes about 2,5 hours to travel by bus or coach. From Hanoi, it is easy to take a flight to Phu Bai Airport, trains and coaches are also available almost every time of the day.
6. Tips
The best time of the year to visit Hue would be March- April and November- December when the weather is mild and suitable to go around.
The ticket for Purple Forbidden City only is 200,000 VND($8.5) / adult and 40,000 VND ($1.7)/ child . If you are planning to see Tu Duc Royal Tomb, Minh Mang Royal Tomb and Khai Dinh Royal Tomb, the bundle price is 530,000 VND ($22.7)/ adult and 100,000 VND ($4.3)/ child.
The Purple Forbidden City in Hue has been recognized as a World Heritage site by UNESCO. It is undoubtedly a must-visit spot in Hue if you want to expand your understanding about Vietnam, from history, tradition to cuisines. Hue, the poetic spectacular city, will be a highlight in your trip. Please comment below to share with us your expectation and impression about the citadel and city.