Da Nang (Danang), a coastal city of Vietnam, is emerging as an appealing destination. The charms of the city include not only the beautiful landscape but also the unique cuisine. Inside every dish, it's the central Vietnam's culture and tradition. The best dishes that you should not miss are surely seafood. We have chosen a list of top 7 best seafood restaurants in Da Nang for you to explore the city's cuisine.
1. Nam Danh Seafood (Hải Sản Năm Đảnh)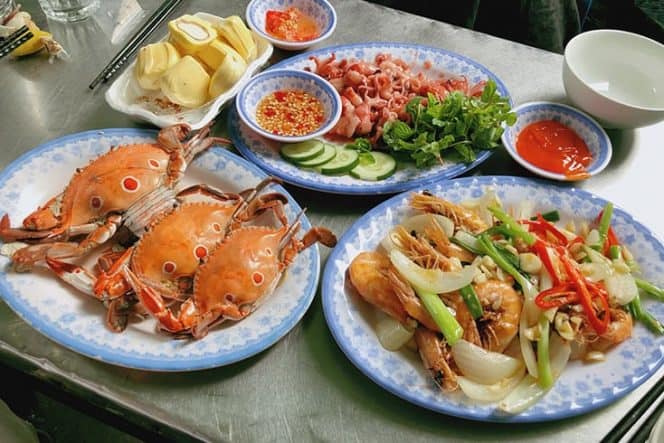 Highlights:
In spite of being hidden in a deep valley, Nam Danh Seafood Restaurant attracts a lot of diners coming. The menu includes seafood and vegetables. Some of must-try dishes include snail rice noodles, steamed squid with celery, and grilled sweet snail with citronella. To retain the sweetness of the seafood, the chef makes most of the dishes in a simple way. If you like the simplicity of street foods, this restaurant is the place to go. And, the most important thing is that the price is a lot cheaper than other places, just from VND 60.000/ a dish.
Address: 139/59/38, 10 Tran Quang Khai, Tho Quang, Son Tra, Da Nang
Opening hours: 10:30 am – 08:15 pm daily
2. Hải Sản Phố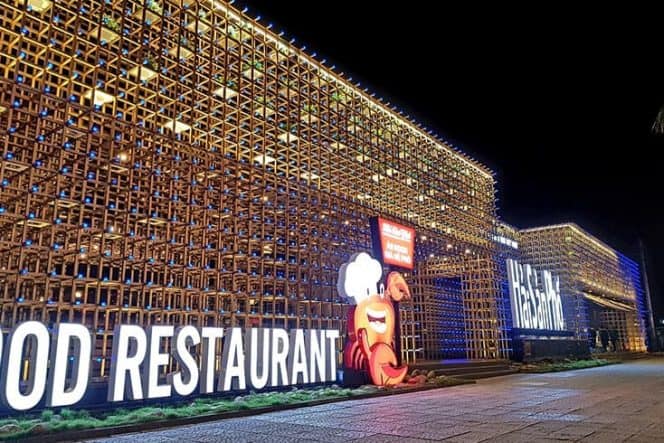 Highlights:
Hai San Pho, one of the best local seafood restaurants in Da Nang, is a suitable place for group and family parties with a very spacious space and cozy, modern decoration. The menu is diverse, divided into several areas so you can easily choose and order fresh seafood. The restaurant serves many kinds of seafood, even some expensive and rare seafood. Especially, Hai San Pho provides "fish market" procedure which means that you can choose the freshest ingredients yourself. The price is reasonable and worth for enjoying a dinner with a beach-front view to Da Nang shoreline.
Address: 51 Vo Nguyen Giap, Bac My An, Ngu Hanh Son, Da Nang
Opening hours: 10:00 am – 10:30 pm daily
3. Nem Restaurant
Highlights
Located on the 3rd floor of Belle Maison Parogand Danang Hotel, Nem Restaurant is well known for fresh seafood and delicious, authentic Vietnamese cuisine. The restaurant can serve up to 60 customers. With this seating capacity, it is not too crowded and noisy so you can enjoy your meal comfortably. The breakfast buffet serves from 6:40 am to 10:00 am, and its highlight is, of course, the dinner. Guests can choose fresh seafood from Nem Restaurant's tanks then it is taken to the kitchen for preparing. Though Nem serves the most famous Vietnamese seafood dishes, you also can require the chef to cook in Hong Kong or Thai style. If you are confused with the menu of too many tasty and colorful dishes, we would like to recommend these best dishes from Nem Restaurant: fried seafood spring rolls, perfume snail, grilled clam, and banana blossom with sunny fish salad.
Address: 216 Vo Nguyen Giap, Phuoc My, Son Tra, Da Nang
Opening hours: 06:40 am – 10:00 am & 06:00 pm – 10:00 pm
4. Fatfish Restaurant & Lounge Bar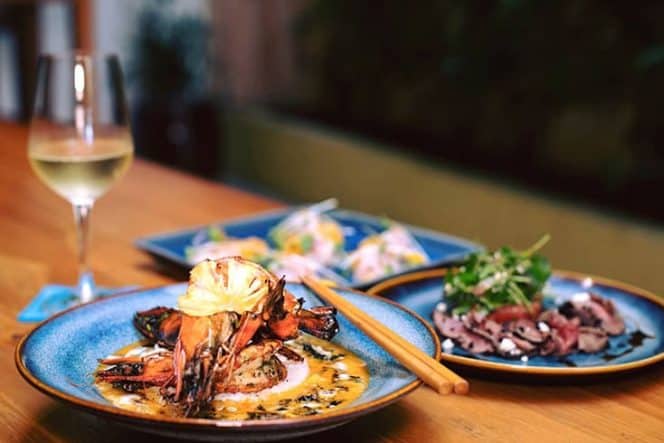 Highlights:
Fatfish is a promising seafood restaurant in Da Nang to go which is just next to Han river. First of all, the restaurant looks great. It is fresh, clean, spacious and also professionally run. There are air-conditioners and it offers customers comfortable seats with detailed attention. The outside has nice design as well with green bamboo wall and warm lighting which creates romantic atmosphere. The seafood is tasty, good flavored, and nicely presented. For recommendation, the tasty dishes are King Prawn Red Curry, Seafood Tagliatelle, and Seared Sea Scallops. Besides, if you want to invite your friends for a drink after dinners, Fat Fish has a lounge bar which is comfortable and spacious also.
Address: 439 Tran Hung Dao, An Hai Trung, Son Tra, Da Nang
Opening hours: 10:00 am – 11:00 pm daily

5. The Grill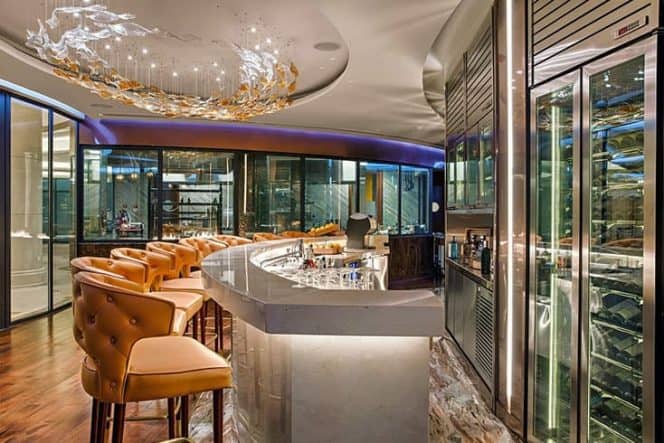 Highlights:
Opened from 2018, the Grill, just like its name, brings customers a culinary experience of BBQs, steaks and various a la carte. The restaurant has an elegant and luxurious interior design, fine outdoor arrangements, a pool and ocean view. It also provides private rooms for groups from 8 to 20 people. The Grill is truly a perfect for spending nights with your friends or private and intimate dates with your lover. In addition, if you are a seafood addict, this restaurant is for you. You can indulge yourself in endless fresh seafood dishes. Among these delicious dishes, the outstanding one and also the restaurant's highlight is "seafood tower". It is literally a tower of Nha Trang lobsters, shellfish, oysters, Alaskan crabs,… Though the price is not cheap at all, it's worth having a meal here.
Address: 35 Truong Sa Hoa Hai, Ngu Hanh Son, Da Nang
Opening hours: 06:00 pm – 10:00 pm
6. Bé Mặn Seafood Restaurant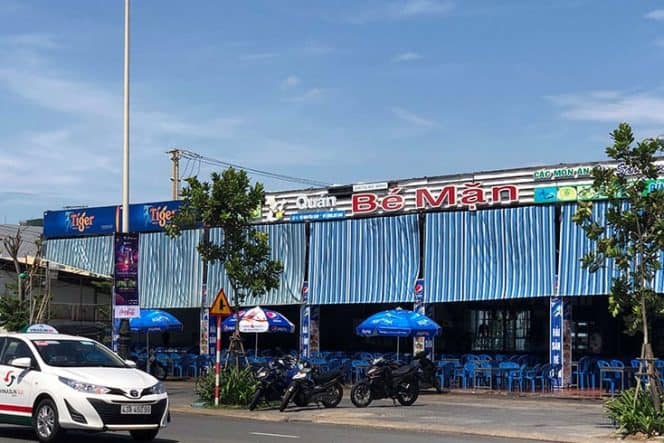 Highlights:
Located on a beautiful coastal path in Da Nang, Be Man restaurant (Hải Sản Bé Mặn) is an ideal place to enjoy fresh seafood and admire the beautiful landscapes at the same time. It is always full of people, especially in the late afternoon until night. To serve a large number of guests, the restaurant is quite big that can afford a hundred of people. Their menu is fresh and diverse and the food is made in a special way which makes it different from elsewhere. Before you order, please check the price very carefully. Some food items are rare so its price is a little expensive. We will recommend you to try prawn (45 USD/kg), and oyster (6 USD/kg). Fish soup and seafood fried rice is also great.
Address: 11 Vo Nguyen Giap, Son Tra, Da Nang
Opening hours: 09:00 am – 11:00 pm daily
7. Indochine Café & Restaurant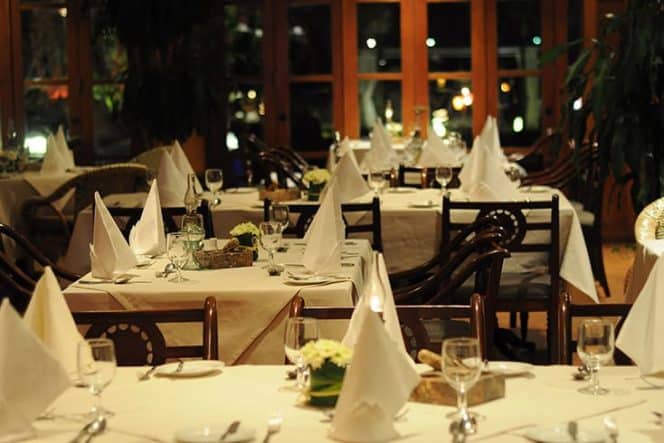 Highlights:
Located inside Furoma Resort, Indochine Café & Restaurant will satisfy anyone looking for a luxurious meal. The restaurant is famous for friendly staff and wonderful view that overlooks Furoma's infinity pool and China Beach. The highlight of Indochine definitely belongs to the seafood diner buffet which is the only one in town. The food items are diverse and they often improve both quality and quantity. Seafood are prepared in different cooking ways and styles: steamed, deep fried, or grilled,... And, the menu is divided into Vietnamese, Chinese, Thai, Malay, Indian, and Indonesian which helps you easier to choose the dishes. The long list of sauces and marinated sauces also a plus point of this restaurant. As a luxurious buffet restaurant, Indochine has a good appearance with mainly local decoration items. Apart from dinner buffet, the breakfast is impressive with a good mix of East and West breakfast options such as breads, pastries, fruits, sushi, waffles, beans, cereals,…
Address: 105 Vo Nguyen Giap, Khue My, Ngu Hanh Son, Da Nang
Opening hours: 06:30 pm – 10:00 pm
Did you find your favorite seafood restaurant in this list? Let's go and enjoy. It will be one of your best dining experiences in Vietnam.