Danang is definitely one of the most worth-living cities in Vietnam and in the world. It has fabulous beaches and hospitable citizens; however, does anyone know its cuisines are remarkable, too? In this article, we will discover 7 impressive Danang foods.
1. Mỳ Quảng – Quang Style Noodles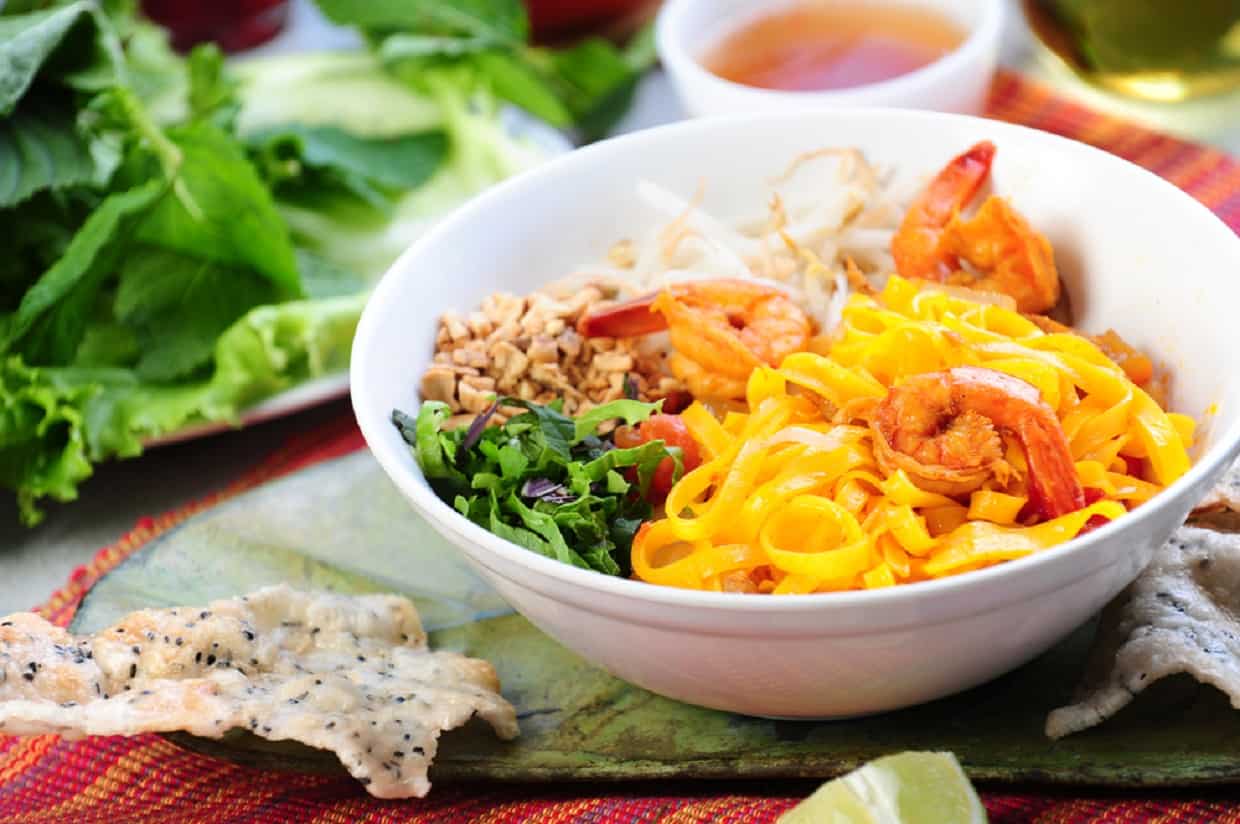 My Quang (Quang noodles) is said to be the most highly recommended dish for visitors who come to Da Nang for the first time. This dish can be considered as "the pride of Danang cuisine" as its flavor is undeniably marvelous.
Though you can find this specific noodle roughly anywhere in Vietnam nowadays, Danang – Quang Nam region, evidently, owns the most skillful cheves who can create the most mouthwatering Quang Noodles dishes. In Danang, all parts of this rustic dish would be carefully prepared, so that culinary enjoyers would be served with the most fascinating dish.
First, let's go deep into the noodles' making process to see what contributes to My Quang's amazing flavor. Traditionally, Quang noodles would have two specific features that helps it stand out from the others: its ingredient and its shape. A high-qualified Quang noodles must be made from the ground whole grain rice. This type of rice would not only bring My Quang a signature "white" color but also ensure its rich nutrition. About its shape, unlike most types of noodles which have round shape, Quang noodles stand out by their flat shape, which are parts of a large rice layer.
To ensure the dish's best taste, My Quang would only be made right after being ordered, and the way this dish is cooked is also amazing. Unlike other vermicelli-related dishes, which are only blanched by the boiling water, there is an amount of peanut oil added to the blanching process of My Quang. This aims at creating My Quang's fatty flavor and preventing the noodles from sticking to each other. A traditional My Quang bowl would merely have shrimp and pork; however, nowadays, a number of variants are made, ranging from chicken to beef, frog, crab and so on. Each kind of meat has its own unique flavor; however, they all effectively contribute the noodles' mouthwatering taste!
The essence of the dish would lay in the broth, which is created by boiling a variety of ingredients in such a long time. These ingredients include: pork bones, pork belly, chicken breast, shrimp, turmeric powder, cashew oil, onion, and garlic and so on. Thanks to this long list of ingredients, the Quang's broth is so rich and enchanting. Therefore, in each bowl of My Quang, there is just a small amount of broth, but this is enough to make the dish rock!
Because the broth is made from such a wide range of ingredients, it can be a bit too fat to someone, therefore, My Quang is always served with numerous vegetables, from lettuce to mustard, herbs, basils and so on. Tourists can freely add these vegetables to their dishes until they feel appropriate.
My Quang is like a dish of happiness, mix all the ingredients up before eating and you will be surprised by its flavor!
Recommended places:
Location: 166 Le Dinh Duong, Hai Chau, Da Nang
Opening hours: 6.30 am – 10 pm
Price range: 30.000 – 55.000 VND (~$1.5 – $2)
Location: 19-21 Tran Binh Trong, Hai Chau, Da Nang
Opening hours: 6.30 am – 9.30 pm
Price range: 25.000 – 44.000 VND (~$1 – $2)
2. Seafood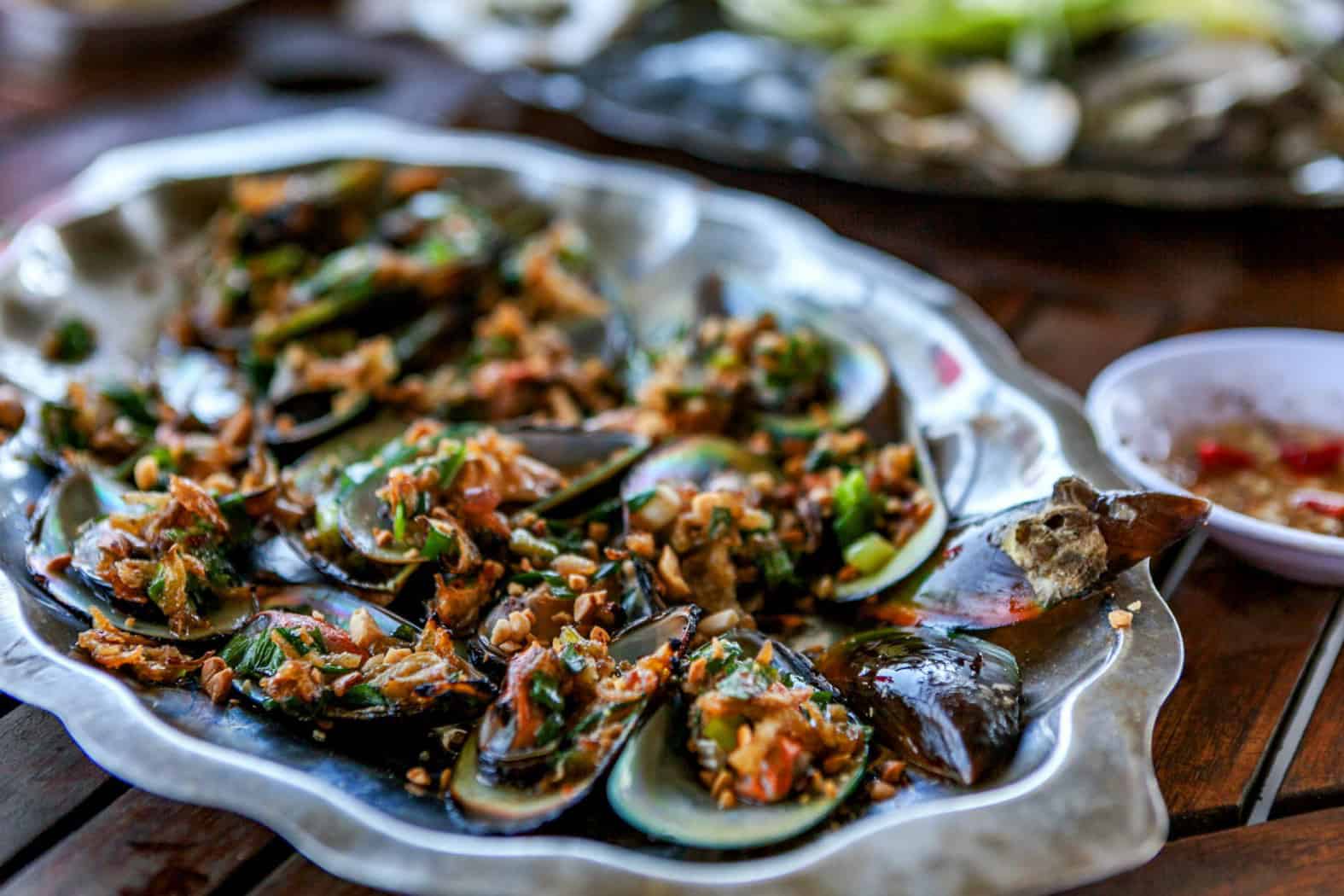 Since Da Nang is a coastal city, seafood, evidently is a must-try for first-time travellers to Danang. The fresh as well as nutrition-rich seafood here will certainly be able to lead enjoyers to highest satisfaction.
Usually, the seafood served in Da Nang is caught in a day, ensuring the most delicious experience for culinary enjoyers. The freshest lobster, shrimp, squid as well as other sea creatures would be prepared in various ways, from the most simple and familiar dishes to the most luxurious ones. Danang's restaurants are so professional at preparing seafood that their dishes can meet the needs of a wide range of visitors, from middle class to the privileged ones. If you are a "food-hunter" whose goal in life is to seek delicious food, Danang's seafood is definitely for you. However, even if you are a newbie in trying seafood, please do not worry as there would be a number of friendly waiters and waitresses always ready to help you..
Though seafood may be offered in a plethora of coastal cities in Vietnam, Danang stands out as a hospitable destination which provides the freshest seafood with affordable prices and enthusiastic service. Therefore, going to Da Nang and tourists will possibly have the most satisfied seafood experience in their life!
Recommended places:
Location: 354/1 Vo Nguyen Giap, Ngu Hanh Son, Da Nang
Opening hours: 10.30 am – 11 pm
Phone: 0905749079
Location: 26 To Hien Thanh, Son Tra, Da Nang
Opening hours: 10 am – 11 pm
Phone: 090 566 50 58
Fanpage: https://www.facebook.com/mocseafood/
3. Bánh Canh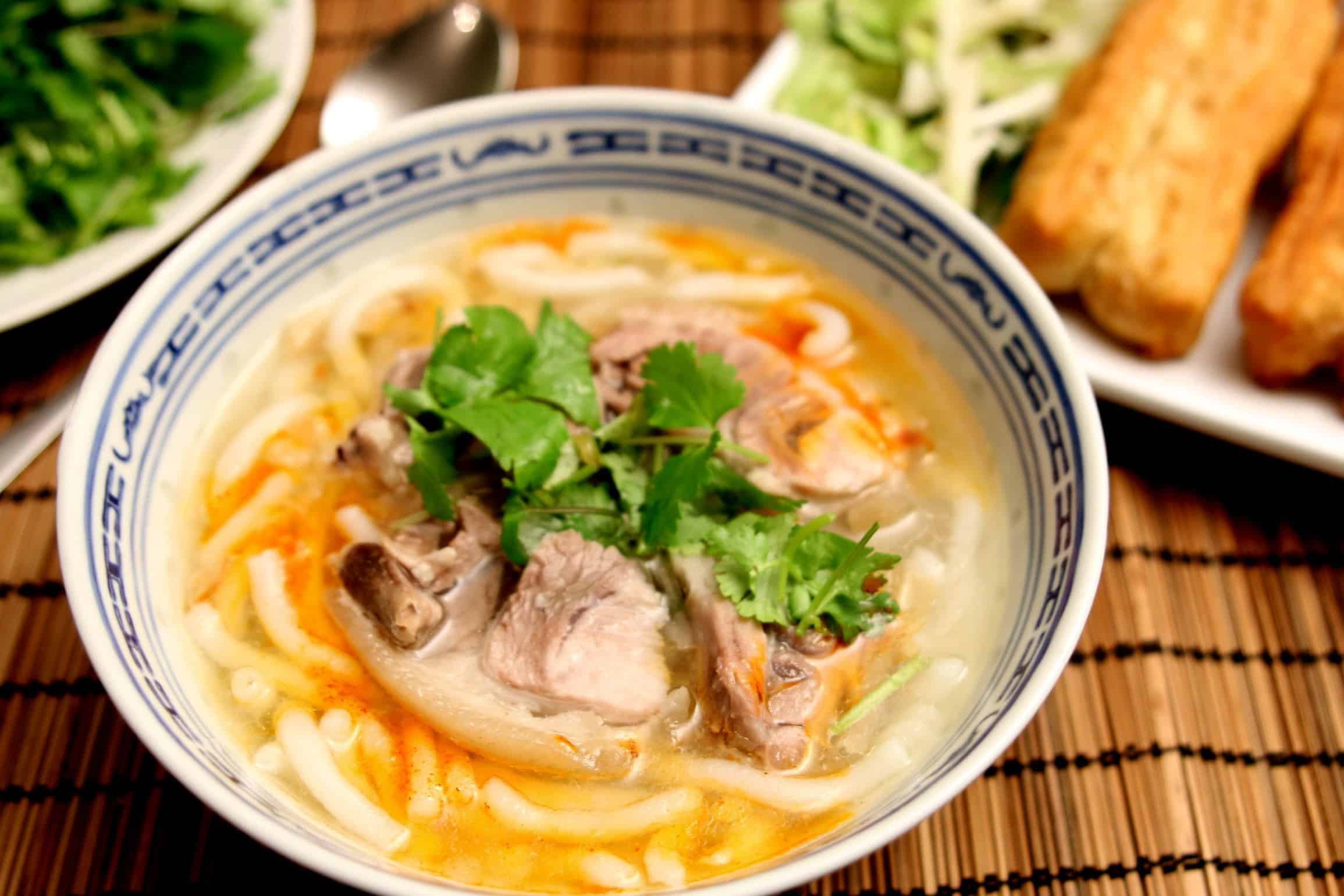 Banh Canh is one of the most familiar cuisines in the middle part of Vietnam. Its ubiquity leads to its variation in its recipe as well as flavor. Each region has its own way of preparing a bowl of Banh Canh and among all these regions, Da Nang can be considered one of the best places to try Banh Canh.
Banh Canh differs from other vermicelli-related dishes by its special vermicelli, which can be made from rice flour, wheat flour or rice flour mixed with cassava flour. The flour first will be made into a large layer, then this layer will be cut into numerous thick and short sticks. These sticks then will be cooked in boiling broth, which is another quintessential aspect of a delicious Banh Canh bowl.
Similar to other types of vermicelli, Banh Canh's most important part would be considered to be the broth, which is made from fish bones. The fish bones, unlike the pig or cow's ones, bring a much "softer" flavor. This broth would become a perfect combination with the noodles as both of them have such an elegant natural flavor.
Moving on to the toppings, as written above, Banh Canh's ingredients vary regionally, therefore, the toppings are also various. Popular toppings that can be seen widely are boneless fish, grilled chopped fish, pork, shrimp and meat. This topping "pile" ensures that enjoyers would have the fullest meal; moreover, it is also to appropriately go with the "soft" flavor of the broth and the vermicelli.
Another special topping that can be seen popularly in vermicelli-related dishes is "quẩy" – a kind of finger-shaped bagel. This "bagel", of which flavor can be called "ordinary" when tried separately, turns out to be unbelievable when being dipped into Banh Canh's broth.
However, regardless of the toppings or cooking styles, a well-qualified bowl of Banh Canh must include the nutritional gentle broth made from seafood or fish bones, along with the aroma of herbs and vegetables. Sometimes, just a small additional pungency of pepper and chilli can make the dish rock!
No matter what the weather condition is, Banh Canh is a daily dish of most people in Danang. This dish is ubiquitous and can be found roughly everywhere, from the street food stall to the high-qualified and luxurious restaurants. Try a bowl of Banh Canh and you can feel its memorable flavor.
Recommended places:
Location: 22 Nguyen Chi Thanh, Hai Chau, Da Nang.
Prices range: 10.000 – 45.000 VND (~$0.5 – $2)
Opening hours: 6.30 am – 10 pm
Phone: 0905183176 – 0935143936
Banh canh Thanh Huong Da Nang
Location: 35 Le Hong Phong, Hai Chau, Da Nang.
Price range: 20.000 – 35.000 VND (~$1 – $1.5)
Opening hours: 6 am – 9.30 pm
Phone: 01656623230
4. Bánh Xèo – Vietnamese Pancake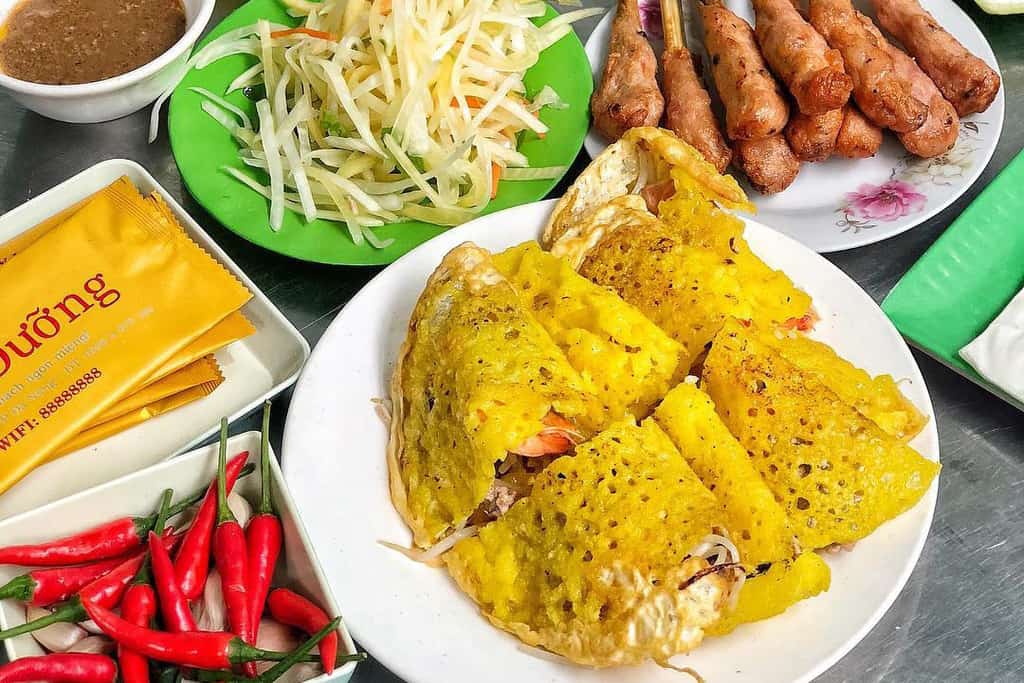 Banh Xeo has been called "Vietnamese pancake" for a long time due to its making way; however, if you go to a restaurant and eat Banh Xeo with a mind of eating pancakes, you will totally be surprised.
In Da Nang, a traditional Banh Xeo would be made of handmade rice flour, sometimes with the addition of turmeric powder and egg yolk. While frying the rice-flour layer on the pan, shrimps, pork and various kinds of vegetables would be put on. Then, just with a simple movement of folding the Banh Xeo by half, a perfect Banh Xeo is ready to be served!
Even though the making process sounds so simple, it is difficult to make a delicious Banh Xeo. This dish's flavor lies mostly on the ingredients; therefore, with an appropriate way of making Banh Xeo but a totally wrong combination of ingredients, it will be still impossible to have a good dish! The shrimp used in making Banh Xeo would have to be the alive river shrimps, which ensure the dish's sweetness. The pork has to be the belly meat, so that it will not be too dry or to fat. The vegetable would not only have to be at its freshest condition but also have to contain lettuce, basil, bean sprouts and so on. The crusty layer, the freshness of the vegetable, the sweetness of the shrimp and the saltiness of the pork combine harmoniously together, creating a definitely mouthwatering dish.
The sauce used together with Banh Xeo also has to be specific. Unlike normal sauce which is mostly made of fish sauce, garlic and chilli, a true Banh Xeo's sauce has to be the combination of pig liver, ground peanut and of course, fish sauce. Before enjoying this dish, enjoyers would have to wrap the Banh Xeo by a "made from rice" layer and with some prepared fresh vegetables. Then, dip it into the sauce and enjoy. Tourists are recommended to eat it by hand, so that they can enjoy the dish using all senses: the eyes, the ear, the nose, the mouth and the hands. Banh Xeo's flavor now would be highly boosted and will absolutely satisfy culinary enjoyers.
While trying Banh Xeo, people often eat it together with Nem Lui, which is literally a stick of grilled minced pork. The pork, after being minced, would be marinated by the owner's own recipe, then being grilled and served. Try these two dishes together and you will have a unforgettable dish!
5. Tré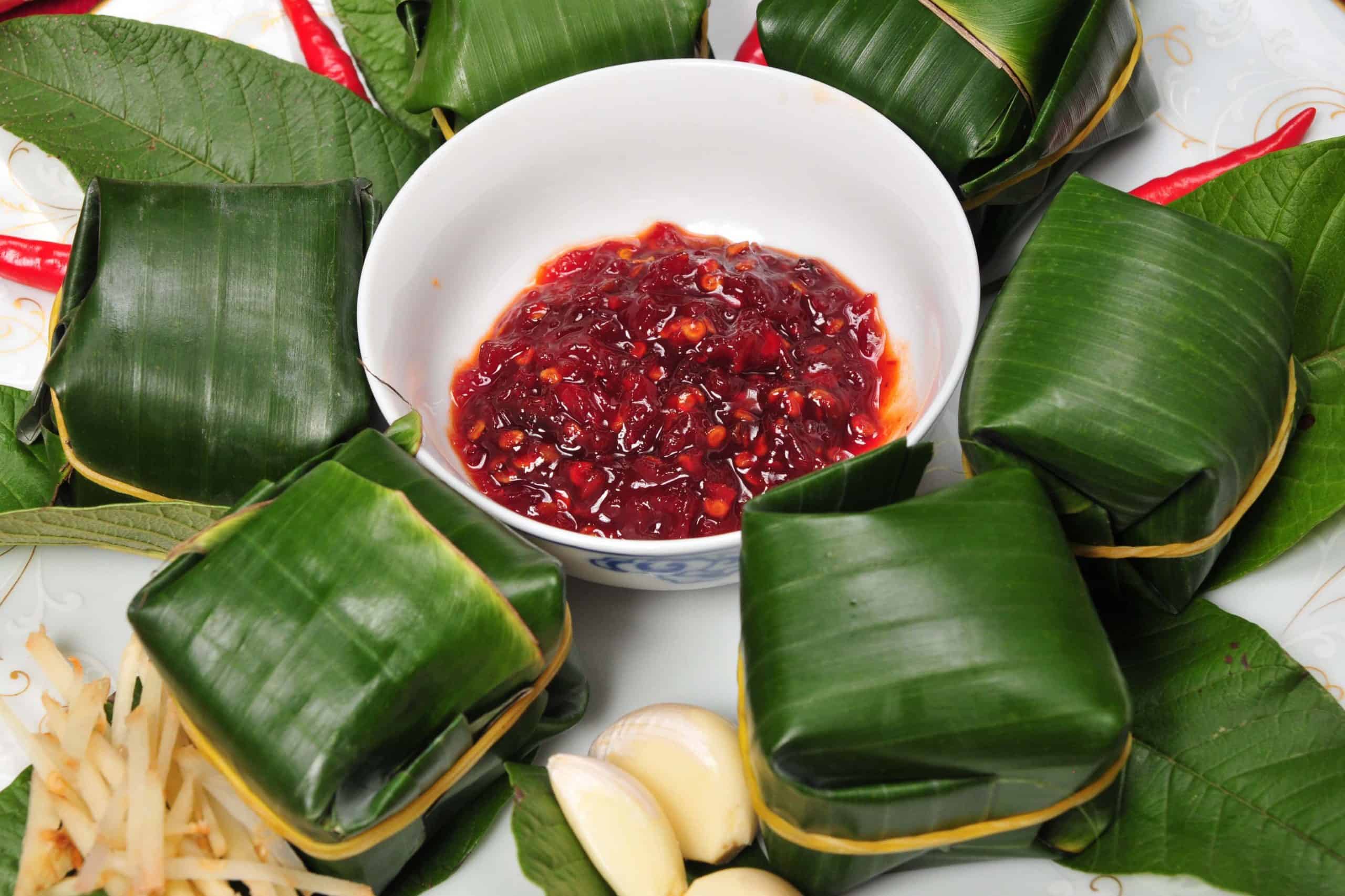 Referring to Danang, it would totally be a miss if you do not mention Tre, which is one of this area's most famous cuisine. Tre can not be used as a main meal, but, it can bring additional happiness to any single small talk.
Tres, literally, is fermented sliced pork. This dish's main ingredients include pig's head meat, pork belly and pig skin, all of which are chosen as they will offer culinary enjoyers crunchy bites, which is quite "funny", honestly! These ingredients will be boiled (as these ingredients will be cooked well-done, people who cannot stand rare meat can still enjoy this special dish before being dipped into the cold water (in order to keep it crunchy). Then, the meat will be sliced as thin as possible and be mixed with a special combination of spices.
The secret of Tre's typical sweet and sour flavor lies completely on this complicated spice combination. This combination, traditionally, contains salt, chilli, sliced garlic and galangal, as well as Thính (ground fried rice). However, the mixing ratio of these ingredients creates the difference between this person's Tre and another's. Each chef has his or her own way of combining spices, and under few circumstances can these ways be spread as most Vietnamese chefs appreciate the act of keeping a secret recipe for his/her own.
Each portion of Tre will be wrapped carefully and tightly by one layer of guava leaf (which efficiently adds flavor to the dish) and an outer layer of banana leaf. In some areas, after wrapping the Tre by banana leaf, people even wrap them with an additional layer of dry straw, which helps prevent the dish from being spoiled for a longer period of time.
After being fermented for 2- 3 days (the fermenting process, in fact, is just the process of leaving the Tre alone in a cool, dark place), Tre will be ready to be served. Now, each portion of Tre will have the storage time of about 2 weeks.
A good dish would become even better if it is enjoyed in the right way. After unwrapping Tre, people are advised to mix it up altogether. Then, Tre can be eaten with rice paper, fresh vegetables, pickle stuff or chilli sauce. (However, in my own opinion, Tre tastes best when you mix the chilli sauce altogether with the meat. Just dipping a little chilli sauce cannot be enough for elevating the Tre's flavor.) This dish, though seems simple, has the flavor which becomes the symbol of Vietnamese Middle Region. Try it once and then you can not stand but will have to try it for several times.
A small tip: The longer the fermenting process is, the better the dish becomes. However, if this process takes place for more than two weeks, Tre may become too sour for most people. Therefore, people had better enjoy this dish within two weeks counting from the first day of the fermenting process to get its best flavor.
Recommended shops:
Tré bà Đệ – Tré ông Chánh
Address:
81 Hai Phong, Thach Thang, Hai Chau District, Danang
Danang International Airport
Phone: 0236 2218 067 – 0236 3828 067
Email: trebadedn@gmail.com
Website: trebade.com.vn
Address: 53 Hai Phong, Hai Chau, Danang
Phone: 0913 457 503 – 0905 078 140
Website: Chabocole.com
Address: 12 Hoang Hoa Tham, Tan Chinh, Thanh Khe, Danang
Phone: 05 113 750 467
Website: dacsanlamqua.com
6. Trà Sâm Dứa (literally means Pineapple Ginseng Tea)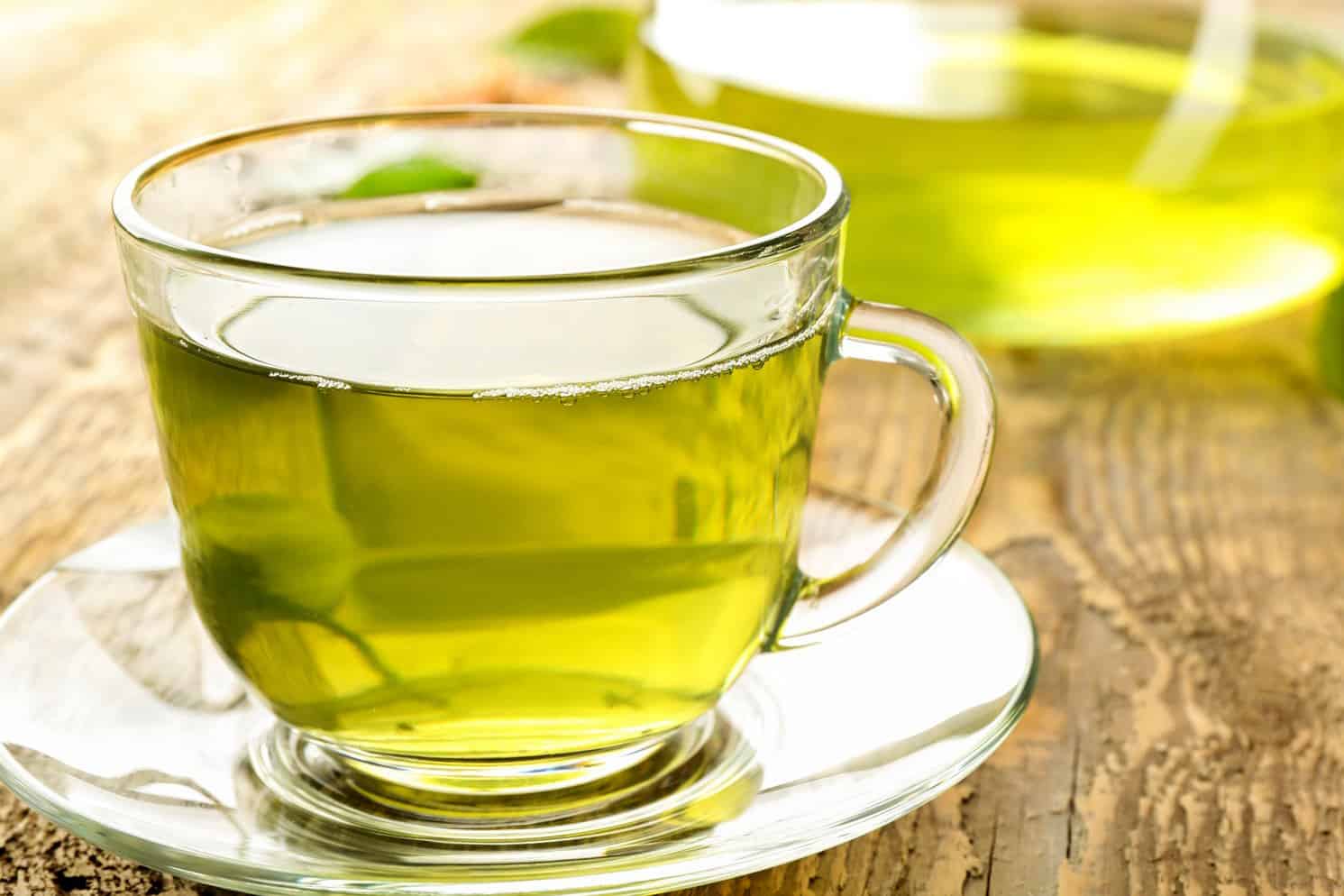 This special type of tea is famous not only in Danang but also in the whole country of Vietnam. It has long been considered as one of the best tea in Vietnam. Unlike its name, which can make tea amateurs have a wrong imagination, this tea contains neither ginseng nor pineapple. Funnily, this tea is not even cultivated in Danang. Then, if it is not a local tea type of Danang, why it can be famous as a Danang cuisine?
In fact, Tra Sam Dua's main ingredient is Quang Nam's Tien Phuoc tea. After being transferred to Danang, the locals will mix it with pineapple leaves and several other ingredients. These ingredients and their mixing ratio are only known by Danang people, which, understandably, makes this drink become a typical cuisine of Danang. (It is said that: only Danang locals can make Tra Sam Dua. Therefore, interestingly, you can refer to it as one Danang's secret drink)
According to some tea masters, what makes Sam Dua tea stand out from others is its specific "sweet" bitterness, harmoniously combining with the pleasant smell of pineapple leaves, which are both said to bring enjoyers relaxation and refreshing feelings after or before a hard working day. In Vietnam, this type of tea can be even used as a healthy drink supplement. It is said that: a daily drinking routine of Tra Sam Dua can give you a longer life span, a healthier lifestyle, better digestive system, as well as a better detoxing and anti-aging process. Some also refer to this type of drink as a healthy means of losing weight and preventing cancer.
Some small noticess: Firstly, for people who have never brewed tea, you have to "wash" the dried tea once before you can drink it. "Wash" means: after pouring the hot water into the teapot for the first time, you have to pour this water out after a few seconds as this water is considered a tea-washing one. Then, at the second time, leaving the tea pot for about 3- 5 minutes and this time, you can enjoy a fresh fragrant Tra Sam Dua teapot. Another notice, after having a good tea pot, wrap the dried tea carefully and store it in a cool, no sunlight place so that the tea's taste would not be spoiled. Lastly, The more tea you add in, the stronger the flavor is. Hotter water or longer brewing time will do nothing in promoting the tea flavor.
Recommended shops:
Address: 103 Ho Xuan Huong, Bac My An, Ngu Hanh Son, Danang
Address: 119 Ho Xuan Huong, Bac My An, Ngu Hanh Son, Danang
7. Gỏi cá Nam Ô (so-called Vietnamese Sashimi)
Apparently, Danang- a beautiful beach city, is well-known for its fresh seafood. Among the traditional preparing ways of frying, steaming,…, there is a way that is easy to miss by traveller, it is making "gỏi". "Goi ca Nam O" is named after the place which is best at making this dish. Nam O is a Fishman Village, which means they can make the dish right after catching the fish, allowing them to serve the freshest dish ever. Therefore, it is understandable why this place is famous for serving the most delicious dish.
The fish used to make "goi" in Danang in general and Nam O in specific is herring. Herrings have to be caught soon in the morning so that the meat's "sweetness" as well as freshness can be at the highest level. After being caught, the fishes will be processed to eliminate the head, fish scales, bones and viscera. Then, the meat will be washed by water mixed with salt and vinegar to remove the fishy smell. and be cut into slices.
There are two ways of preparing the meat: the "dry" one and the "wet" one. In the "dry" way, the fish, after being processed, will be mixed with Thinh (ground fried rice), ground fried sesame, ground fried peanut, ground fried rice paper and a number of spices. In the "wet" way; however, the fish slices will be marinated with fish sauce and minced ginger, galangal, garlic as well as chilli.
Normally, The herrings' meat will be served together with a special sauce and a wide range of special vegetables. Why are these two factors special? First, about the Goi Ca's dipping sauce, it is unique because its main ingredient is the water squeezed from the fish before being marinated. This fish water will be boiled, and then be mixed with Nam O fish sauce (fish sauce produced in Nam O), chilli, galangal, and various other spices. Before using, ground sesame and fried peanut will be added to the sauce, making it even more alluring.
Then, about the dish's vegetables. These vegetables, apart from some common types often seen in Vietnamese food (such as: lettuce, Balm-mint, Chinese Fever Vine, Ming Aralia, bean sprout, cucumber, green guava, green banana,….. ), mostly grow in the Danang's forests. Without the help of locals, hardly can anybody find them. With all these unique factors, I wonder if there is anybody able to keep him/herself from falling in love with Goi Ca Nam O?
Interesting enough, there are also two ways of enjoying this dish. First, like Banh Xeo, people can use rice paper to wrap the fish slices as well as vegetables altogether. Then, after dipping it into the sauce, culinary enjoyers can have a bite and be immersed in the fish's sweetness, the sauce's salty taste and the spices' indescribable flavor. The second way; however, is to mix all the ingredients together, then eat the mixture with fried rice paper. In this way, the dish's taste is unchanged but it would be more convenient with friend groups or families.
Recommended restaurants:
Address: 232 Tran Cao Van, Thanh Khe, Danang
Opening hours: 10 a.m – 11 p.m
Price range: VND 50 000 – 200 000 (~$2 – $9)
Fanpage: https://www.facebook.com/goicasauhao/
Phone: 0905 294 718
Address: 1029 Nguyen Luong Bang, Lien Chieu, Danang
Opening hours: 10 a.m – 10 p.m
Price range: VND 40 000 – 143 000 (~$2 – $6)
Fanpage: https://www.facebook.com/thanhhuonggoicaa/
Phone: 0905 170 200
All the 7 foods above are the cuisine of Danang, some of which you can hardly find anywhere but in this city. Therefore, by trying these dishes, culinary enjoyers will have a chance of discovering a totally new side of Vietnamese cuisine, which is both interesting and impressive.