Dragon Bridge in Danang is a must-visit attraction in Da Nang (Danang) when you come to this gorgeous coastal city. Dragon Bridge was constructed over the Han River in Danang, Vietnam in July 2009. But not until March 2013 was the bridge open to traffic. It has an impressive architecture and special significance to Da Nang city so it attracts thousands of tourists throughout the year. Make sure to visit this elegant bridge in Danang city because it will stay long in your memory.
Location: Danang city center
Entrance fee: Free
Opening hours: every day, except for Saturday and Sunday nights
Highlights of Dragon Bridge
Dragon Bridge is 37.5m wide, 666m long and has 6 lanes for traffic. It was designed by the Louis Berger Group, an international professional full-service corporation that offers engineering, architecture, environmental and construction programs.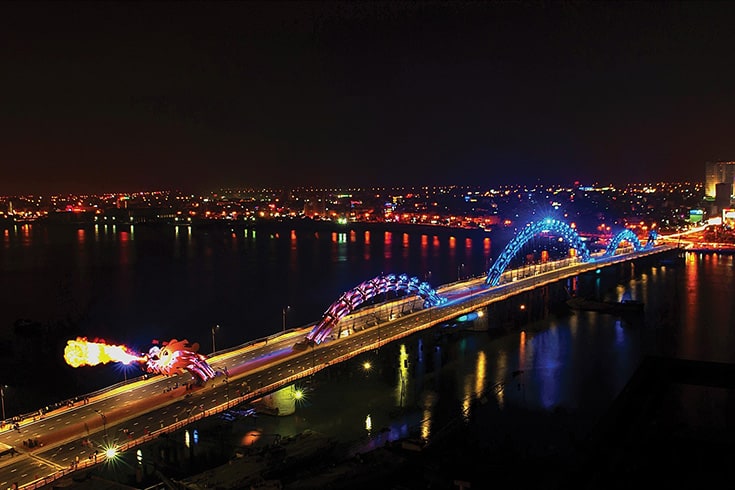 This modern bridge is an important symbol of Danang city. It represents the growth and power of the nation with a rising head and undulatory body. It is the main axis between the west and the east, and also the direct route to spectacular spots like Non Nuoc Beach and My Khe Beach in Danang city.
In the evening, the bridge is illuminated with 2500 smart LED light changing colors every few minutes. At 9 p.m. on weekends and festivals, people are not allowed to use vehicles along Dragon Bridge but witness a truly amazing show called Fire and Water Performance in 15 minutes. You can take a seat at some water bars, restaurants or coffee shops nearby to see the flame.
First, the bridge will spray fire, then water. Fire will be sprayed 2 times, 9 times each turn and water 3 times, 1 time each turn. The performance will start at the Dragon Head. So do not stand too close to it as you will get wet or super hot.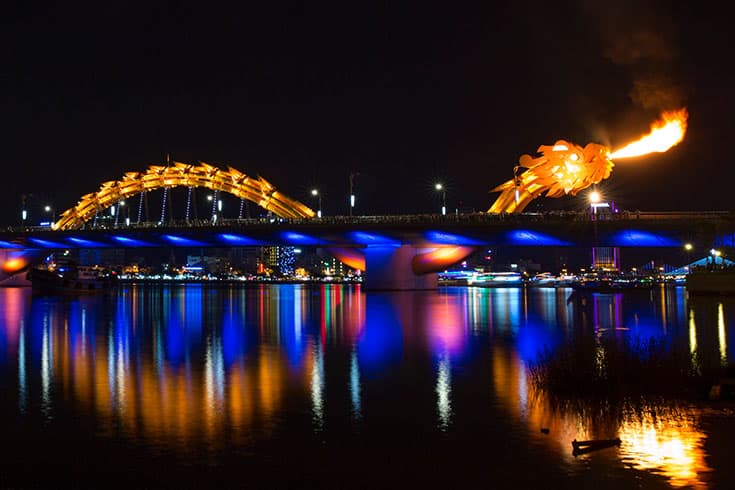 What to Do Near Dragon Bridge?
There are a number of things you can do near Dragon Bridge, which are:
1. Go sightseeing, visit local markets and taste delicious food
If you want to learn more about Cham history, you can visit the Danang Museum of Cham Sculpture, which is a 6 minute-drive from Dragon Bridge. This museum is said to have the largest collection of Cham artifacts in the world.
2. Play some games
Head to Sun World Danang Wonders. It is an amusement park, which is available for anyone loving energetic activities and suitable for different types of visitors, including children, youth or adults.
3. Join a food tour in Danang Night Market
This activity will fulfill your trip to this beautiful city. At food stalls, they serve typical foods such as fresh seafood, sliced pork rolled with rice paper, Quang noodle and pancake. The price for each dish is not expensive so you can enjoy until you feel full without worrying about money.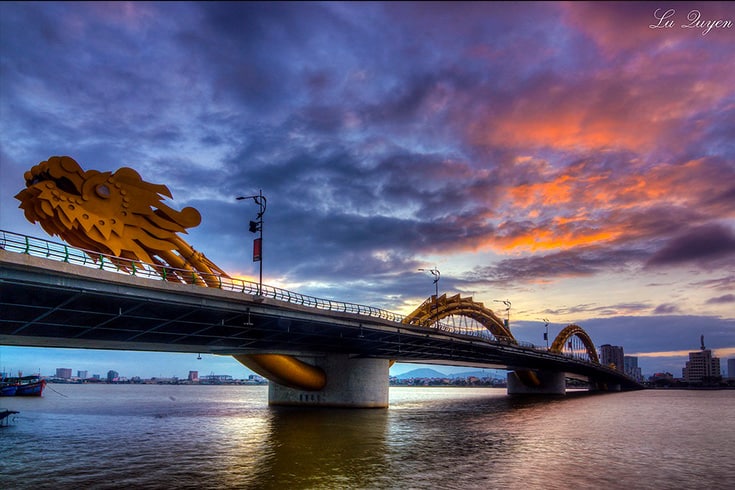 How to Get to Dragon Bridge
There are two main ways to get to Dragon Bridge.
1. Get to Dragon Bridge from Danang
If your hotel is near the beach, you will start your journey at Vo Nguyen Giap street. Go along until you reach My Khe beach. The roundabout of Vo Van Kiet and Vo Nguyen Giap street will appear right after that. Then, you need to turn left and go straight to the next roundabout. The bridge will be in front of you in a few minutes.
And if you stay at the city center, you just need to go along Tran Phu street to the end. And the bridge will be on your left side.
2. Get to Dragon Bridge from Hoi An
Catch a local bus in the morning and stop at the Cham museum. Walk for 3 minutes and you can see the Dragon Bridge on your right side. In case you go by motorbike, go straight An Bang highway until you see the roundabout. Then turn left to Vo Van Kiet street. Go along and the bridge will appear right after that.
Tips and Tricks
It would be better if you take photos of Dragon Bridge at night, especially during weekends, when all the LED lights change colors. This will create an elegant view with fire and water performed together.
If you want to drive your cars or motorbikes across the bridge, avoid the weekend nights because there will be an interesting show at that moment.
A cruise along the Han River is highly recommended as you will have a chance to enjoy the beauty of the river as well as the Dragon Bridge.