Wishing to be surrounded by sea on your next holiday? You may be surprised at how fascinating and unspoiled the islands in Nha Trang are. They are all yours to discover in this beautiful land with long stretches of golden and fine sand. There is always something just beautiful and magical about getting away from the mainland to explore the farther reaches of Nha Trang islands. Let's take a tour of the most beautiful islands in Nha Trang to find a perfect offshore spot for your next trip.
1. Diep Son Island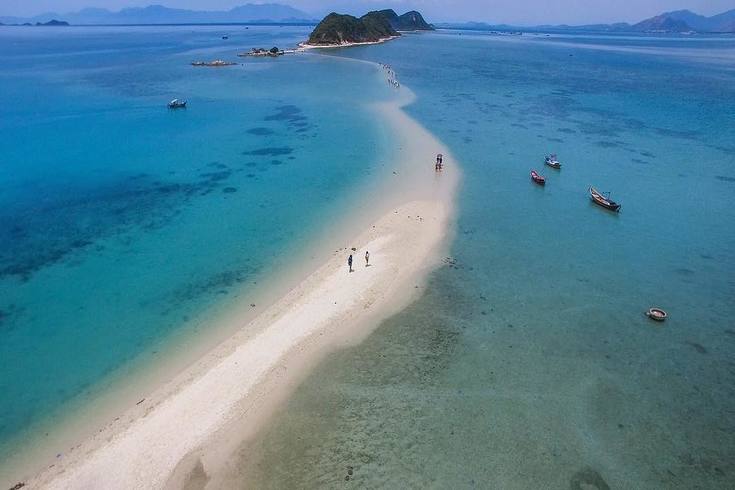 Highlights
Recently, the raw beauty of Diep Son Island has become more popular and widely published thanks to social media. Visiting the island, you can see a couple of guardhouses, a designated camping area, and some beach side eateries. The best time to visit the island is at low tide, when you can see the curving sandbar and 3 of the islets are connected by a "sand bridge". It looks picturesque with its three green islands and a long sweep of white sand. The island is easily reached at many times per day by taking a speedboat from Van Gia Town.
What To Do
Choose and climb one of the small hills to enjoy the spectacular view of the archipelago
Go snorkeling to explore the underwater world with colorful small fishes, wild oysters and sea snails
Go camping with your friends at Van Phong Bay
Tips:
For those who plan to spend more than 3 hours here, don't forget to bring plenty of sunscreen as the island is very hot and sunny.
The best seafood dishes can be found at local restaurants along the beach.
2. Binh Ba Island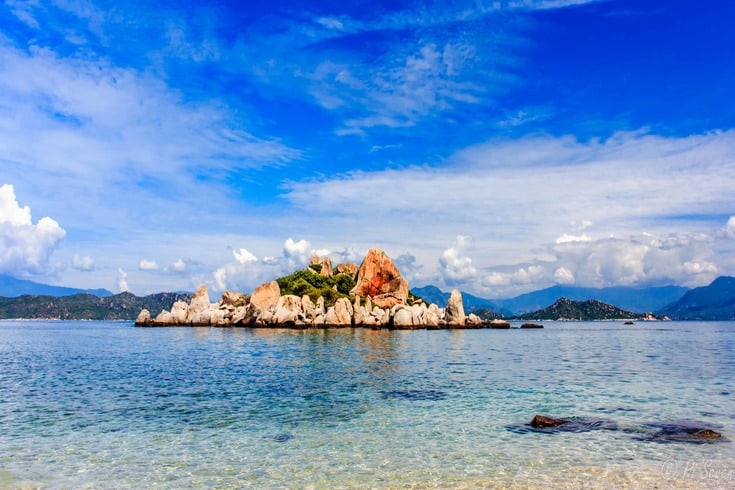 Highlights
Binh Ba is a small island in Cam Binh, which is 60 km from Nha Trang city. Used to be controlled by the army and recently opened to visitors, it still remains untouched and pristine with simple features. Nature is well preserved here, attracting hundreds of domestic and foreign travelers by its exquisite scenery. It has everything you need for a holiday escape: sunshine, blue sky, soft white sands, and stunning coastline. Now, the island is home to 5000 locals who earn their living by fishing and seafood processing.
What to Do
Sunbath on the beach
Diving in Nha Cu or Sa Huynh beaches which have spectacular coral reefs.
Wake up early to witness the gorgeous sunrise on the stunning beaches of Binh Ba island
Rent a motorbike and head for a motorbiking tour around the island
Tips:
The ideal time to visit the island is between March and September when the weather is fine and you can stay away from the crowd of tourists.
Note: Binh Ba is an important military island in Vietnam. Therefore, there are still restrictions on foreign visitors though the rules have been loosened.
3. Yen Island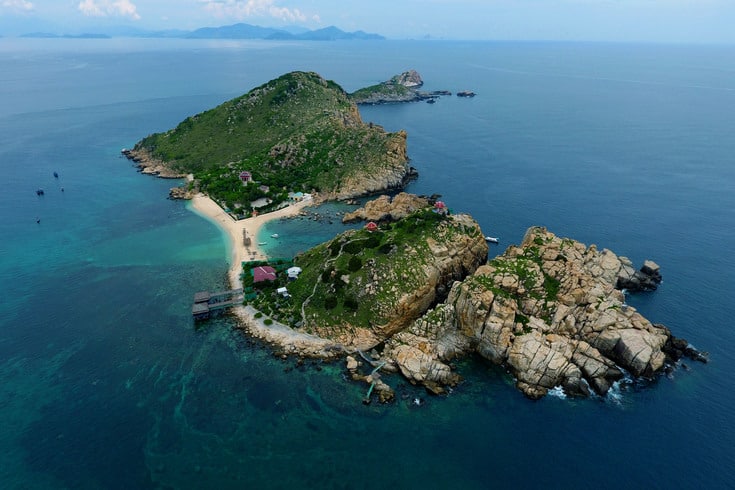 Highlights
An hour by boat from Cau Da Port, you will come to Yen Island – a nesting island in Nha Trang. The natural characteristics of the island have attracted so many salangane come here and make their nests. Every year, these nests are harvested to make healthy food. Besides, the island stands out with the one and only twin beach in Vietnam. The beach is especially divided into 2 sides: a hot water side and a cold water side. To get a happier and more interesting experience, let's visit the island with your family or groups of close friends.
What to Do
Conquer 220 steps to Du Ha Mountain and enjoy the surrounding panoramic sea from the top.
Buy local products made from natural salangane nests such as salangane nest drinks and wine of salanganes' nests and seahorses.
Enjoy swimming in the twin beach
Tips
You have to wake up early as the ships depart at Cau Da port to Yen Island at 7:30 am
4. Tre Islet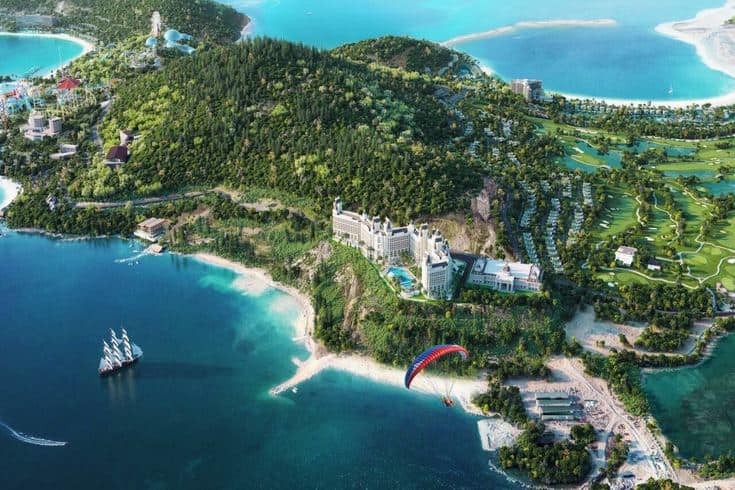 Highlights
Tre Islet is well known as one of the most touristy islands in Nha Trang. Just 5 km from the center of Nha Trang city, it is considered one of the most beautiful beaches in Vietnam which has the hidden and unspoiled beauty of nature. Many tourists choose this place for their eco tour in Nha Trang. Apart from stunning seascapes, Tre islet is also an entertainment paradise with plenty of luxurious hotels and modern resorts. You will surely enjoy your holiday here with all-inclusive services.
What to Do
Visit Vinpearl Land – the longest gondola across the sea in the world
Get more local experience at Con Se Tre tourist village which is mainly made of bamboo architecture.
Try different water sports activities such as riding a water motorbike and go snorkeling.
Swimming at Bai Tru beach
Tips
The best way to discover the Tre Islet is by motorbike. You can rent one with VND 5/ day.
The cable car ticket for traveling to Vinpearl Land costs around USD 37, but the joy you get there is worth the money.
5. Mun Islet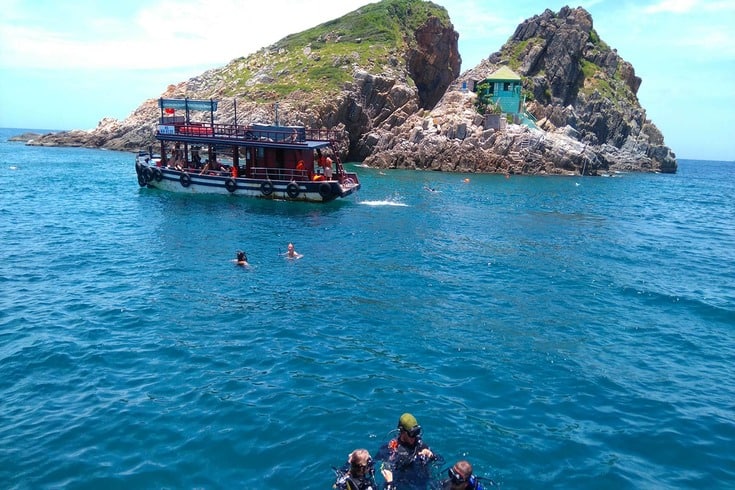 Highlights
When mentioning most popular islands in Nha Trang, we can't ignore Mun Islet – the islet with a unique beauty. Just 10 km from Cau Da port, it takes 45 minutes to travel by boat. It wins tourists' hearts with an exotic beauty. The eastern side is home to many species of Salangane while the southeastern side has many high cliffs. Most rocks in the island are as black as ebony giving you a strong feeling. With favorable climate and terrain, the islet is an ideal spot for those who wish to explore different marine species.
What to Do
Play on the beach, take a rest on deck chairs and listen to the waves
Contemplate the colorful paradise of coral reefs and fishes by diving in Mun islet – the first marine biodiversity area in the country.
Get a brand new experience with a glass bottom boat in which you can observe the real setting of underwater life.
Join the floating bar with fellow tourists and eat right on the water.
Tips
Don't forget to bring your waterproof camera because there are plenty of photo chances here.
We hope that you can choose one of the above beautiful islands in Nha Trang as your next destination for your summer. If you have any other suggestions for beautiful caves in Nha Trang, please let us know so we can share them with other travelers.