Nha Trang, a tourism city in Central Vietnam, has long been famous for the diversity of marine life. In Nha Trang City, you can easily find many interesting aquariums and oceanic institutes to explore the nature of Nha Trang ocean. Among these attractions, you should not miss Tri Nguyen Aquarium, an unique aquarium near the seashore of Nha Trang.
Location: Tri Nguyen, Vinh Nguyen Ward, Nha Trang City, Khanh Hoa Province
Opening hour: 07.00 – 17.30 daily
Ticket price: Adults: 170,000 VND. Children: 90,000 VND
Best for: family, group, couple, solo
I. History and Highlights of Tri Nguyen Aquarium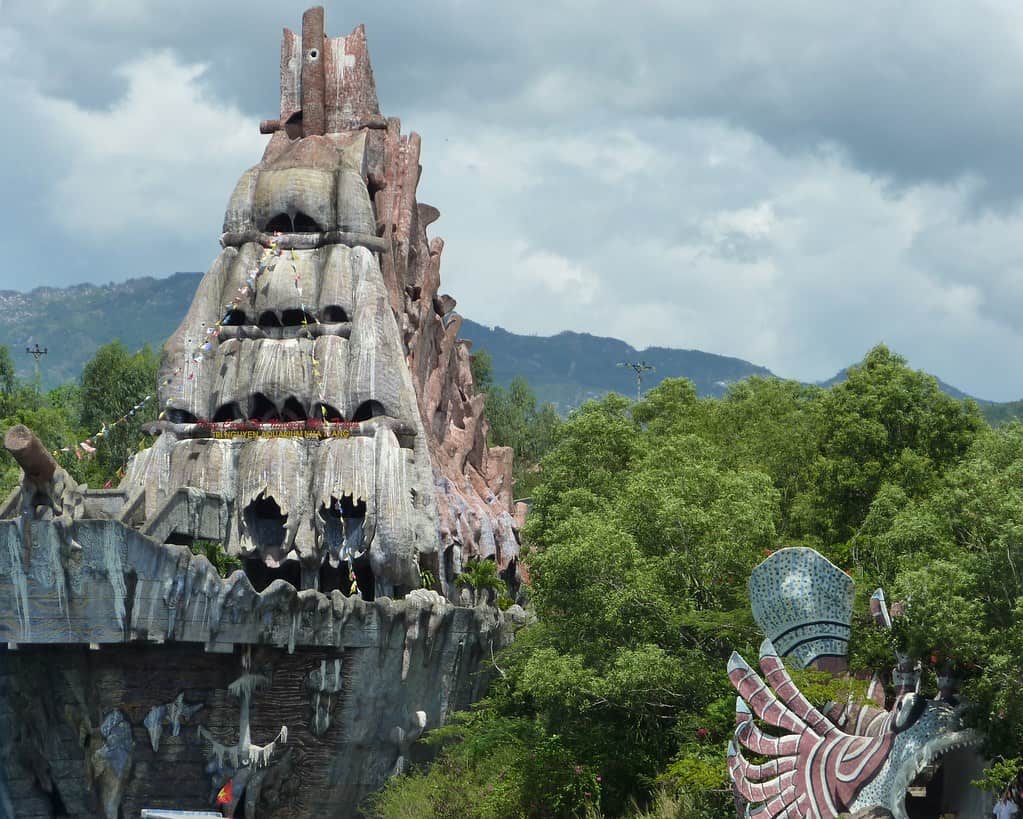 1. History of Tri Nguyen Aquarium
The former name of Tri Nguyen Aquarium is Tri Nguyen Fish Lake, which was built in 1971 by the initiative of Mr. Le Can, a local fisherman. As a natural lover full of enthusiasm, he donated his own money to hire people to build a dam in order to block the sea water. With 160 meters in length and 130 meters in width, the lake consisted of three distinct parts for carnivorous fish, ornamental fish and fish for food.
To create an oceanic environment for the lake, Mr. Le Can had an idea of a non-sealed stone embankment so that the sea water could easily enter and exit the lake. Here he raised many marine creatures, which created a lively museum of Nha Trang sea and attracted the attention of both locals and tourists.
Realizing the potential of this lake, in 1994, the local government of Khanh Hoa Province decided to invest ten billion VND in Tri Nguyen Lake, so as to turn it into an attractive destination for domestic and international tourists. In 1997, the construction of Tri Nguyen Aquarium was completed, and it was under the management of Khanh Hoa Tourism Company.
2. Highlights of Tri Nguyen Aquarium
Tri Nguyen Aquarium, also called Hon Mieu Aquarium, is located on Hon Mieu Island, the most crowded island in Nha Trang due to the location near the seashore. "Mieu" in the name "Hon Mieu" is the spoonerism of temples in Vietnamese because there is a temple of Nam Hai God on this island. Hon Mieu Island is also called Bong Nguyen Island, the heaven island, because of its magnificent beauty.
The most unique feature of Tri Nguyen Aquarium is that the huge fish tank was built based on the construction of an ancient fossil ship with 60 meters in length and 30 meters in height. Tri Nguyen Aquarium has 8 floors with different purposes: the first floor for a fish lake, the second floor for souvenir shops and the third one for restaurants. There is a cannon and a mast on the deck of the ship, which is an ideal position for you to contemplate the panoramic beauty of Nha Trang sea from above.
The system of fish lakes in Tri Nguyen Aquarium includes two types: indoor and outdoor. The area of the fish lake is from 150 to 200 square meters; the largest lake has an area up to three hectares. While the indoor fish lakes are the huge ones with glasses, the outdoor fish lakes consist of many fish lakes in different shapes and sizes in the area surrounding the ship. In addition to the fish lakes, Tri Nguyen Aquarium has many mini scenes with statues of giant mushrooms, crabs and shrimps, which adorns the area around them more lively.
Tri Nguyen Aquarium is a miniature ocean with a diversity of flora and fauna. This is the home of thousands of marine creatures, some of which are exclusive animals of Vietnam. On the way to the fish lakes, you will have a chance to admire a variety of tropical plants such as casuarinas, royal orchids or tropical almond trees. These outstanding factors have combined together in Tri Nguyen Aquarium and made this place one of the most tourist attractions in Nha Trang.
II. What to See at Tri Nguyen Aquarium?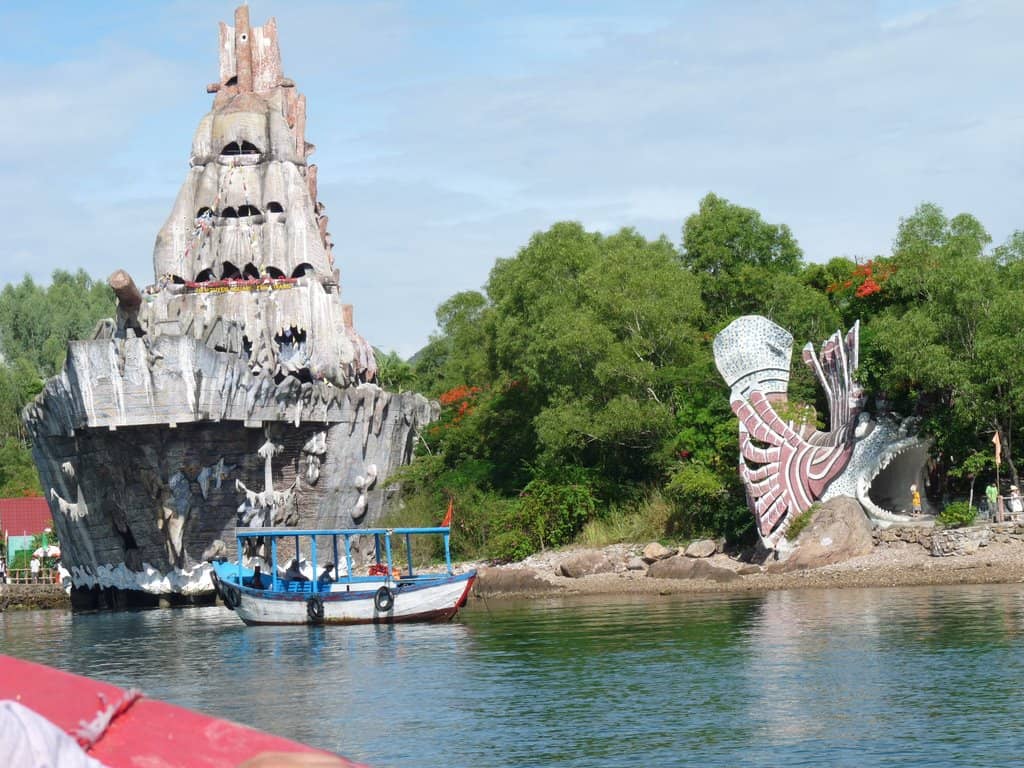 1. Outdoor Fish Lakes
After buying tickets, you will go through the giant mouth of a concrete lionfish to a path with many kinds of green trees leading you to outdoor lakes. The embankment of the fish lakes there are made of coral reefs, which remain the level of water in these lakes the same the sea level. On the bank of the lakes, there are shacks for tourists to stop to enjoy the view, go fishing or feeding sea turtles.
The outdoor lake is the place where you can see many kinds of familiar fish and marine animals such as tuna, ray, mackerel, shrimp, crab, lobster nestling on the coral caves. In particular, in the outdoor areas, you can experience many activities like fishing or feeding sea turtles. The giant sea turtles with the weight up to 100 kilograms are sure to make you feel extremely amazing.
2. Indoor Fish Lakes
Entering the fossil ship, you seem to be lost in the fabulous world of the marine. There are four large fish lakes along with many other small one inside. You will walk on the paths covered by thick glass through the lakes, which makes a feeling as if you were walking in the sea bottom. A world of fish in many colors, shapes and sizes, from tiny multi-colored fishes to giant turtles. Holding your head up, you will admire a breath-taking view of the ocean world, the marine creatures swimming above your head, and the boundaries of human and nature seem to disappear.
Leaving the fish lakes on the ground floor and going upstairs, you will get to the souvenir shop on the second floor. Here, you can buy many unique handicrafts made of shells and pearls such as bracelets, necklaces, wind chimes, small models to decorate your rooms at home. Continue going upstairs to the deck, you can see many sea-creature-shape chairs for visitors to sit down and have a break. From this spot, drawing your attention to afar, you will immerse yourself in the cool wind and the picturesque view of Nha Trang beach.
3. Surrounding Area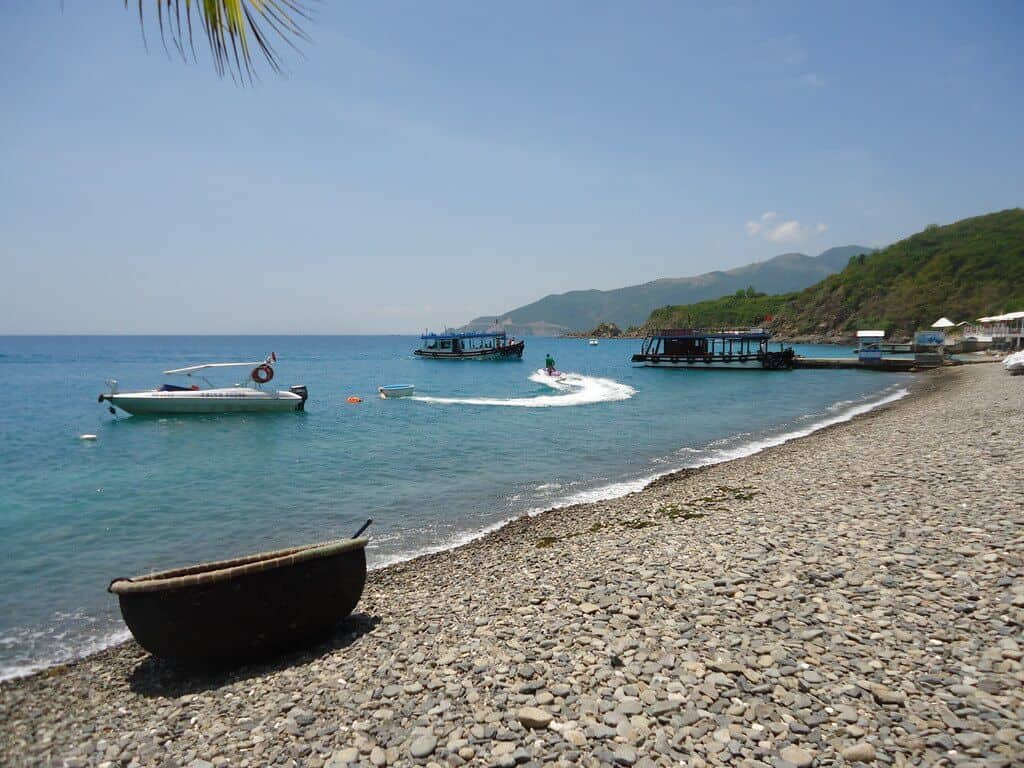 3.1. Bai Soi
It would be a flaw if you come to Tri Nguyen Aquarium without exploring the surrounding area of Hon Mieu Island. A 500-meter-walk from Tri Nguyen Aquarium will take you to Bai Soi beach, a place of interest that you should not miss. As the name Bai Soi, this beach is not formed by white sand as most of the beaches in Nha Trang, it is covered with hundreds of thousands of small shingles, stretching to the water edge.
Bai Soi beach is an ideal place for you to go camping overnight and enjoy barbeque parties with your friends. Besides, you can explore the sea bottom with colorful fish and coral reef by taking part in a scuba diving tour at Bai Soi beach. Bai Soi still retains its pristine appearance, in front odd it is the crystal-clear sea, behind is a primeval forest with many great trees and tangled vines.
3.2. Fishing Village
Due to the location near the seashore, Hon Mieu Island is the most populous one in Nha Trang. Coming to Tri Nguyen Aquarium, you should have a walk around the fishing village to explore the daily life of fishermen here. Moreover, you will have an opportunity to watch the folk music performance of local people as well as take part in the interesting traditional games there.
Wandering around the village, you will find some restaurants and food stalls serving local specialties. The ingredients of these dishes are seafood that are newly caught in the local and offshore water. Enjoying the fresh seafood is enjoying the full flavor of Nha Trang ocean, with the mouth-watering dishes made of squid, shrimp, tuna, crab, lobster, mackerel and so on. The tasty flavor of these dishes for sure will leave you with a long-lasting impression.
III. How to Get to Tri Nguyen Aquarium?
Tri Nguyen Aquarium is on Hon Mieu Island, only about two kilometers from Nha Trang City. From Cau Da Port, you can hire a canoe or a boat, and after about twenty minutes, you will reach Hon Mieu Island. The price for hiring a canoe is from 1.2 to 1.5 million VND for a round-trip canoe; the price for hiring a boat is a little cheaper, from 700,000 VND to 900,000 VND for a return boat for ten people.
IV. Best Time to Visit Tri Nguyen Aquarium
The weather of Nha Trang is quite nice all year round, so you can go to Tri Nguyen Aquarium at any time of the year. However, you are advised to go to the tourism season of Nha Trang. Even though Nha Trang is quite crowded at that time, you can easily arrange your time to enjoy the best experience. You should also avoid the rainy season from September to December, the rough sea and unclear water make it difficult for you to go to the sea as well as watch the coral reefs.
V. Some more Tips
The ticket price of Tri Nguyen Aquarium does not include the transportation ticket and tour guide fee.
Coming to Hon Mieu Island, you can enjoy some adventurous games such as swinging zipline, scuba diving and dragging parachute.
You can combine a trip to Tri Nguyen Aquarium with other places of Nha Trang such as Hon Mun Island, Coral Island and Mot Island.
Don't forget to wear a life-jacket when you are on a boat to ensure your safety.
Although there are some restaurants on Hon Mieu Island, the food there is not very diverse. You can come back to Nha Trang city center to enjoy a better experience.
Tri Nguyen Aquarium is a unique structure designed like an ancient sailing ship from a fairytale. If you are planning to travel to Nha Trang, you should not miss this unique place. We hope you will have a wonderful holiday in Tri Nguyen Aquarium in particular and Nha Trang in general.