Nha Trang is renowned for its snow-white sandy beaches, crystal clear water and verdant tropical mountains. Nonetheless, if you ever get bored of lying on the beach, a journey to majestic waterfalls might be an intriguing alternative. Offering panoramic views of waterfalls and boulders, Ba Ho Waterfalls are only a 45-minute bike ride away from the city center. Read on to find out how these magnificent waterfalls will get you the adrenaline rush of a lifetime.
I. Highlights of Ba Ho Waterfalls
1.Location of Ba Ho Waterfalls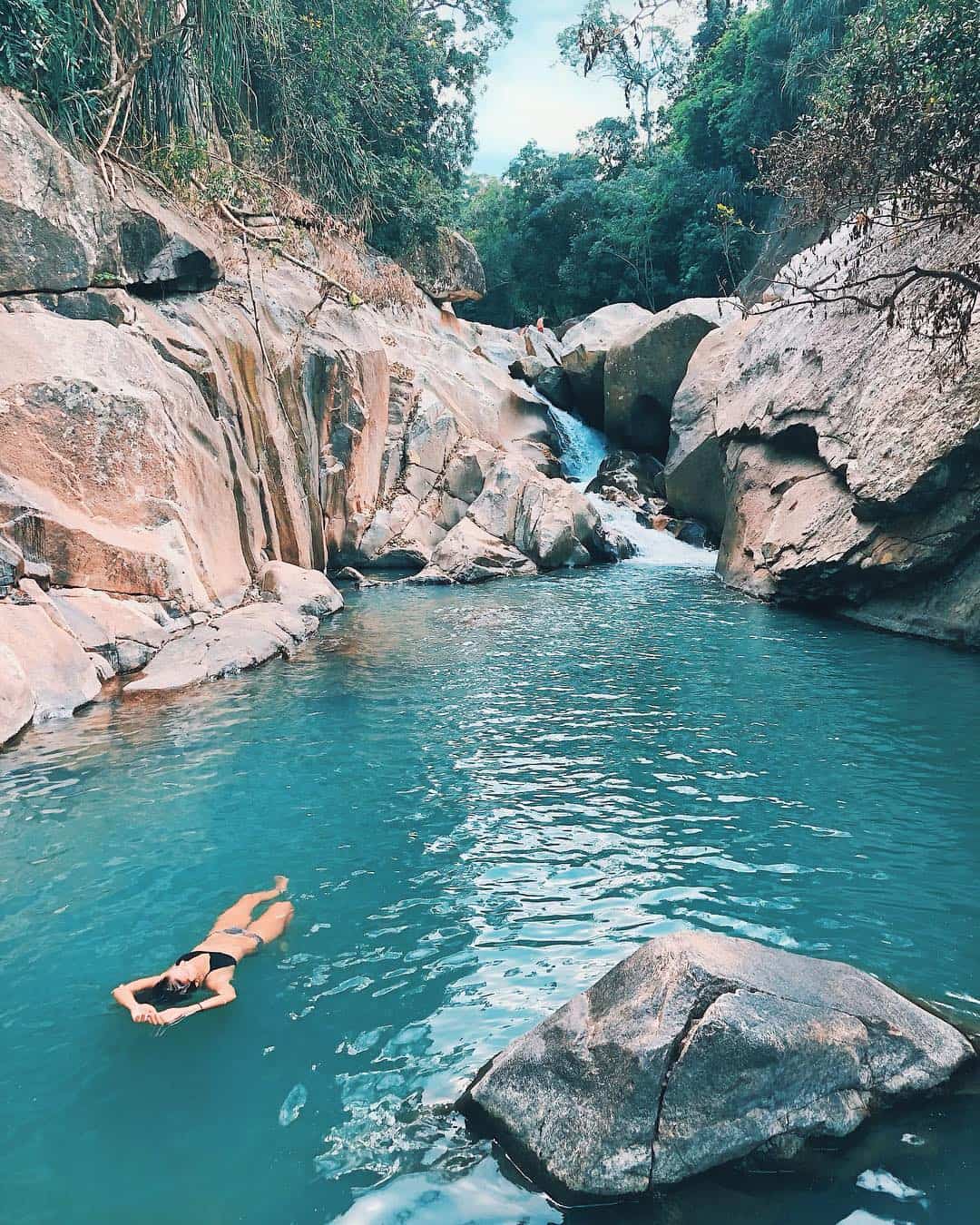 Situated 20 kilometers north of Nha Trang, Ba Ho Waterfalls are a convenient waypoint for many adventure seekers. There are various ways to get there, but most tourists opt for a bike ride, taking account of the low expense and great views along the way.
Bike rentals are readily available in the city, and you'll effortlessly find some with the help from your hosts/hotel owners at the price of 5 USD per day. Riding on your own, there are two routes you can take. The first is through the boring straight National Highway (QL1A). The second, recommended by most explorers, will take you through Pham Van Dong Street, providing scenic views of coastal fishing villages and idyllic ocean, before ending up joining the busy National Highway 1A. Look for the sign "Ba Ho Tourist" on your left, take a turn and follow the bumpy dirt road until you see the parking place.
The other options are to take a taxi or the public bus. Look for the bus number 3 or 4, which cost roughly VND 24.000 per ride. Just tell the fare collector you want to visit Ba Ho Waterfalls, and they'll drop you off at the closest stop to the site. However, be noted that it will be another 3.5 kilometers to get to the falls, and you might not get anyone to take you there. If you're willing to take the risk, this is obviously the cheapest option.
2. Why is it called "Ba Ho"?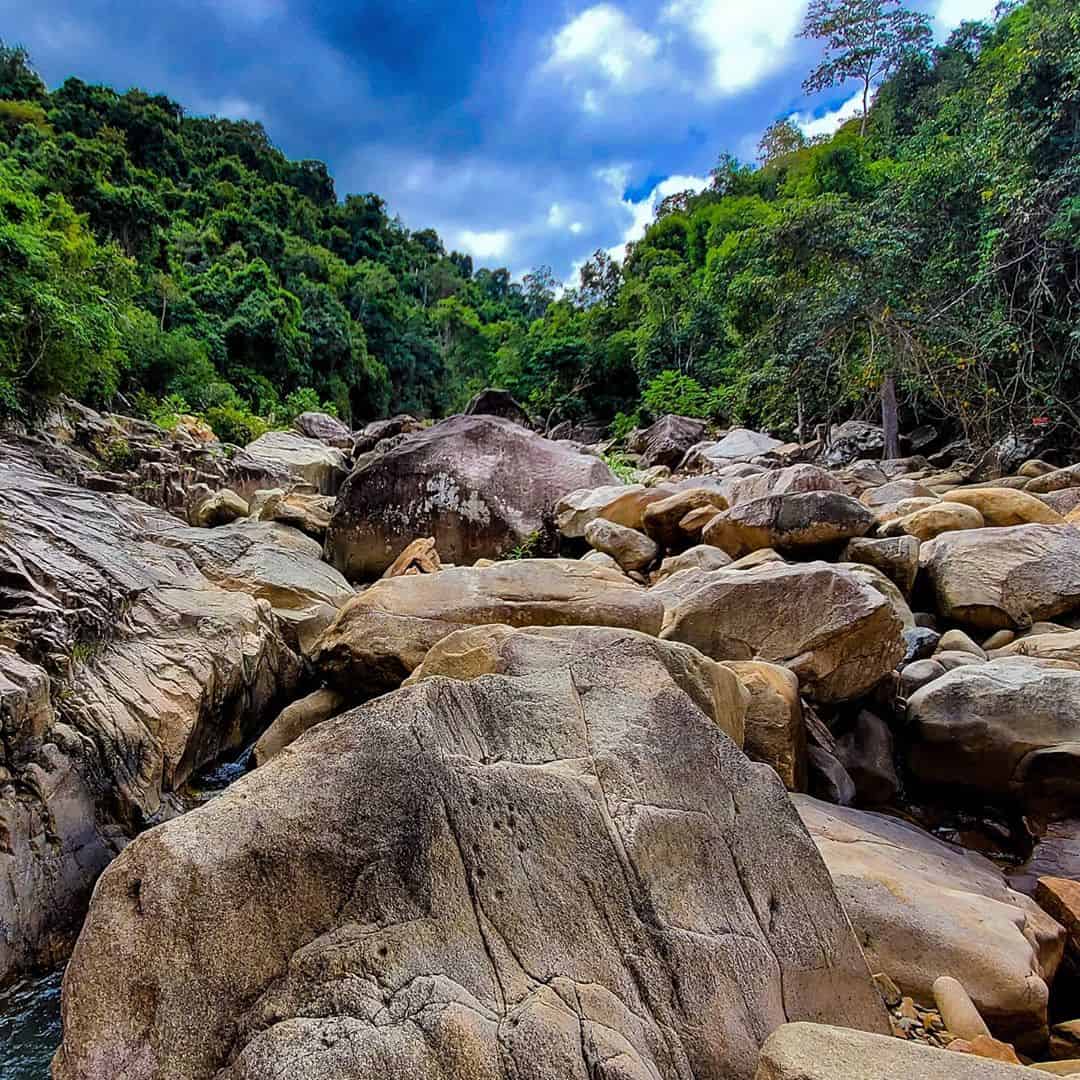 Ba Ho literally means three pools in Vietnamese. The Ba Ho Waterfalls have three tiers with accelerating heights. The first waterfalls are the easiest to access and the most beautiful of all. The majority will choose to stop here, take a dip into the chilling water and adore the majestic scenery.
The second and third are much more challenging, and not really recommended by security and locals. Unless you are a very skilled hiker, we don't recommend you to challenge yourself with these two. However, the views will be duly rewarding, and you will get a great sense of conquest.
3. The trail to Ba Ho Waterfalls
At the entrance, you will spend VND 20,000 for a ticket and another few thousand to park. You will also find small cafes and food stalls selling cold drinks and barbecue chicken. Climbing will be hard work, and it isn't a bad idea to stock yourself with some take-away.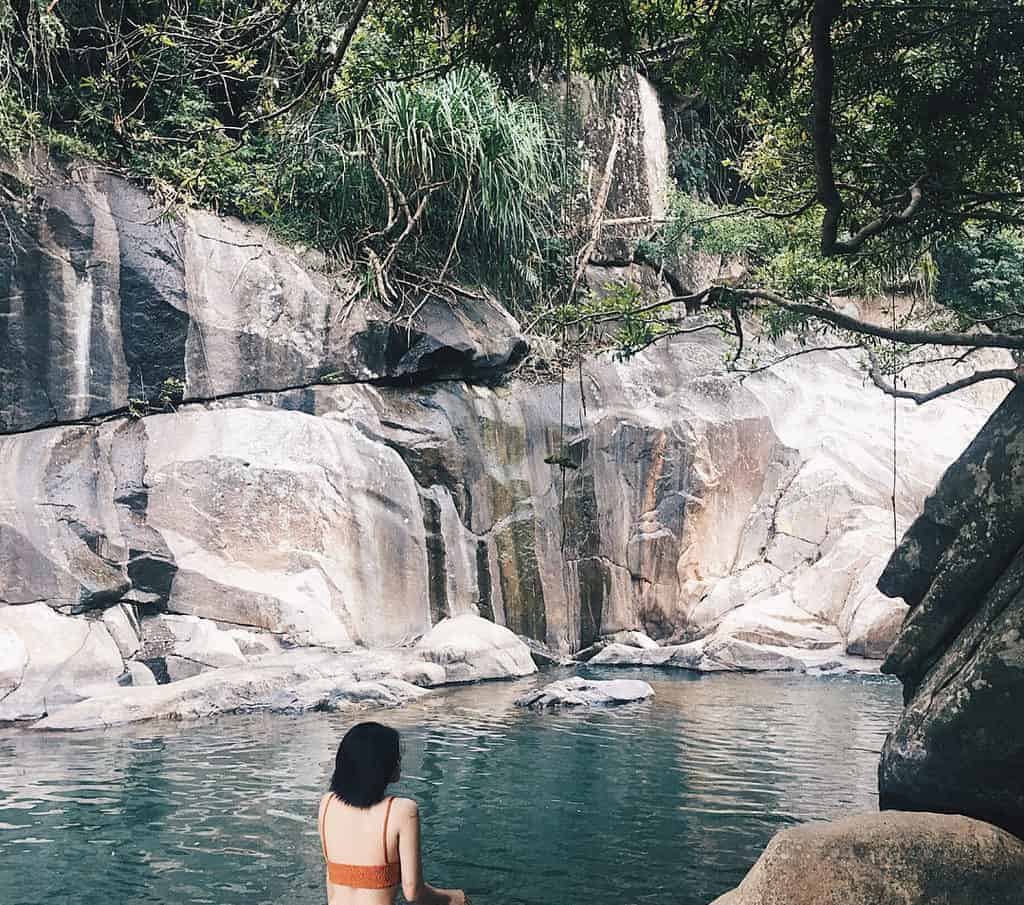 The distance to the first falls is 1.4 kilometers. Following the trail marked by red spray painted arrows, you will find the dirt path magically disappear and boulders take their place.
Now the real work begins.
You will hike over boulders with a lot of scrambling and tree grabbing to get to the first falls. Despite being the easiest, there are some certain tricky parts that will require strength and agility. The hike goes on for 15 minutes before you reach the heavenly first waterfalls.
Blessed with the primitive landscape and extremely clear water, the first falls are due to exceed all your expectations. Here you will find waterfalls and a pool surrounded by rocks at the bottom. Tourists might climb up the cliff, leap off in cold water, or simply jump in and chill while appreciating natural beauty. The water is pleasantly cold and green.
The best time to visit the first falls is during the rainy season. The water from the upstream flows and forms a beautiful waterfall, creating a spectacular scenery for your Instagram photos. However, watch out for the strong flows of water if you are not a good swimmer. The dry season will be much safer, compensating for the less magnificent view.
Before embarking further, make sure you have enough water and energy. The second and third waterfalls are no joke. After some real physical activities including climbing and scrambling over large rocks, you will find the second waterfalls nested under a green canopy of trees. Hemmed in green forests, the view is wild, soothing and duly rewarding.
You will find significantly fewer people as you carry your way to the third waterfalls. The hike will be an arduous journey of roughly 300 meters over big slippery rocks and steep cliffs. Therefore the third waterfalls are only recommended for skilled avid travelers, who are physically ready to take on such an exhausting journey. You are also advised against going on your own.
After admiring the primitive charms of the three falls, you can go back to the road, or follow the forest trail marked with red arrows to get back to the entrance. It will be more challenging but worth experiencing.
II. What to See and Do in Ba Ho Waterfalls?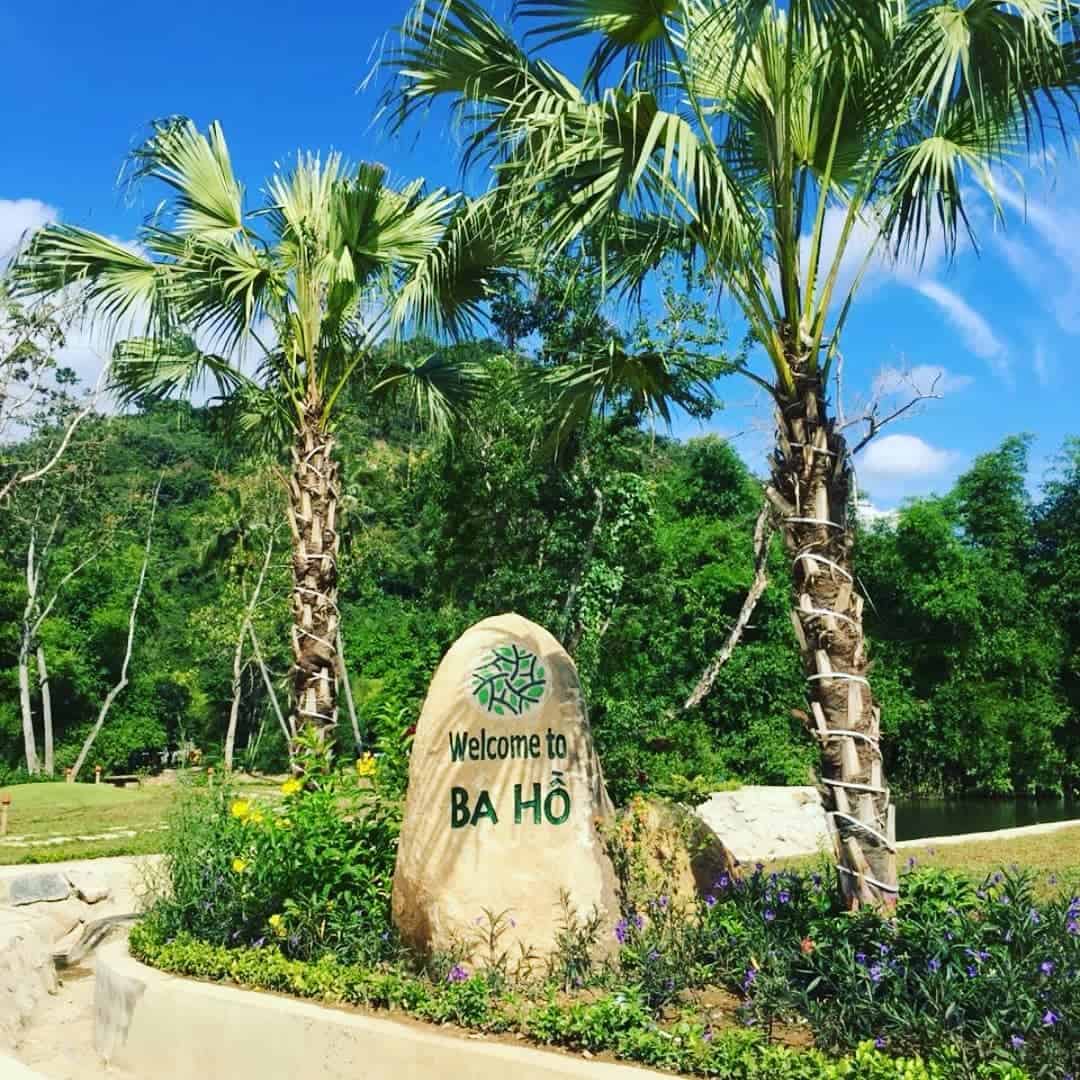 A journey to Ba Ho will take typically three hours, and you're advised to take all the time you need. The best way to enjoy an escape to nature is to walk slowly, admire the scenery and chill in the cool water. A number of natural spots are available if you want to take your Instagram photos to a whole new level.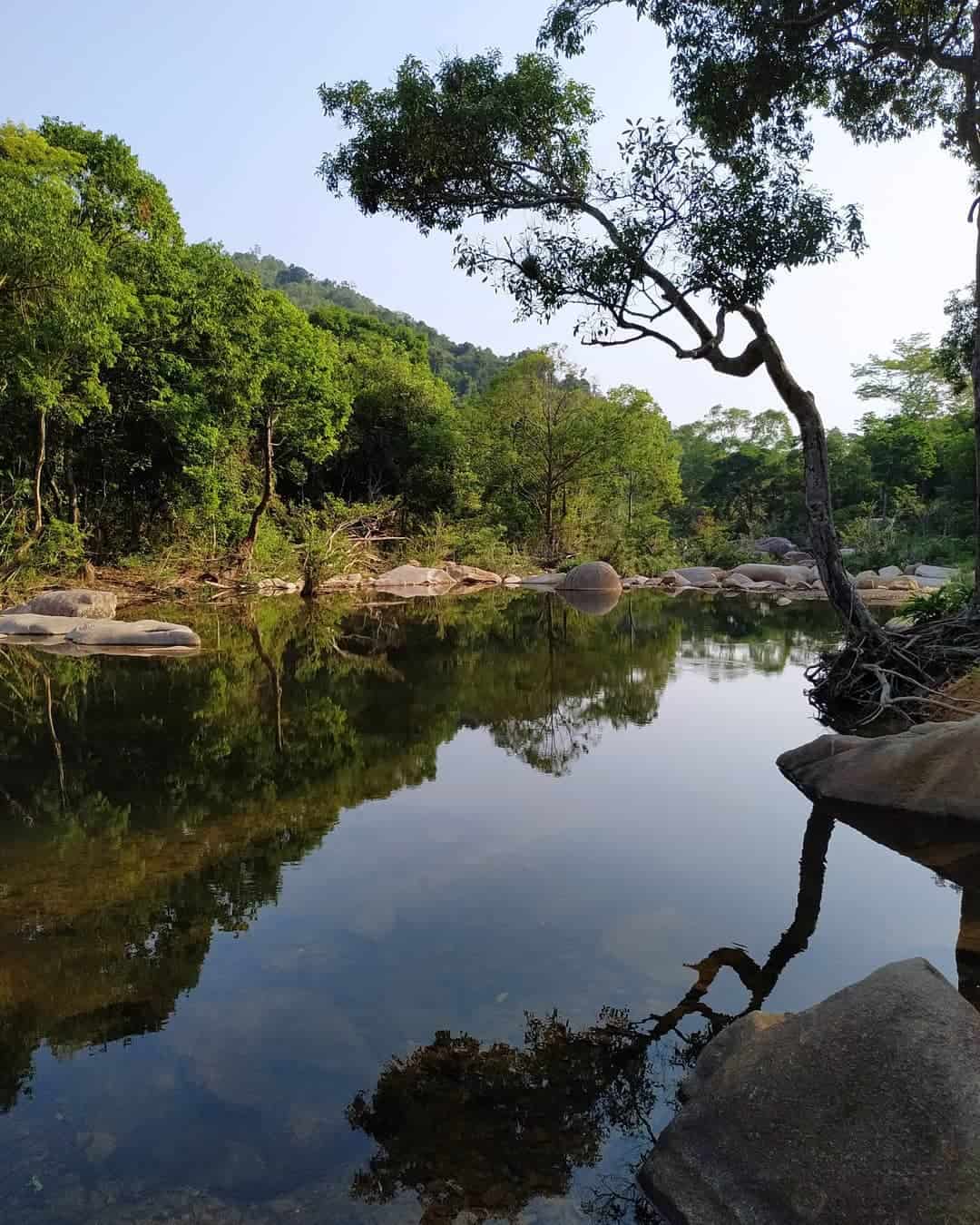 If you're more of an adventurous type, just curl yourself and jump off from the cliffs! Nothing can compare the exhilarating feeling of landing on a bed of water. The first waterfalls, in case you don't know, are the birthplace of some of the coolest cliff-jumping videos in Vietnam.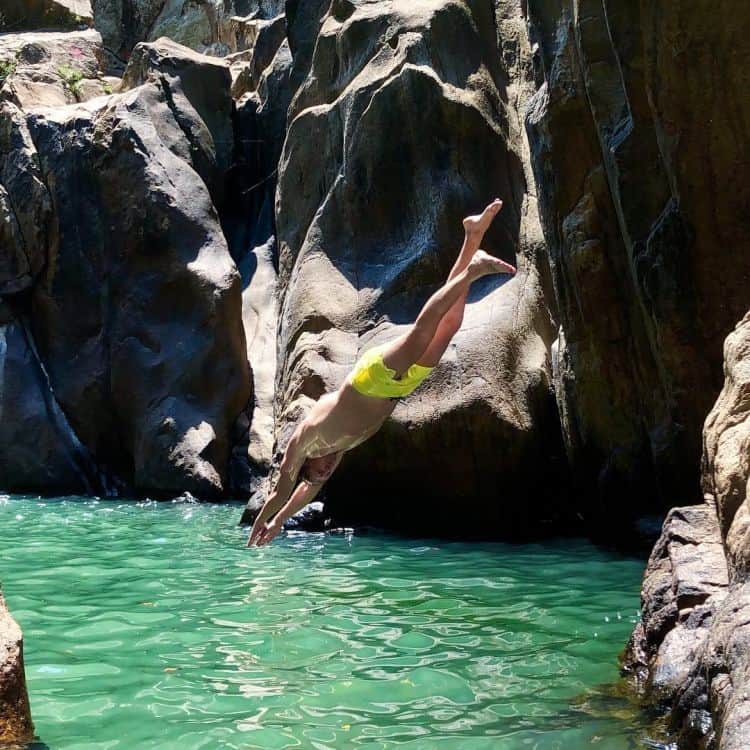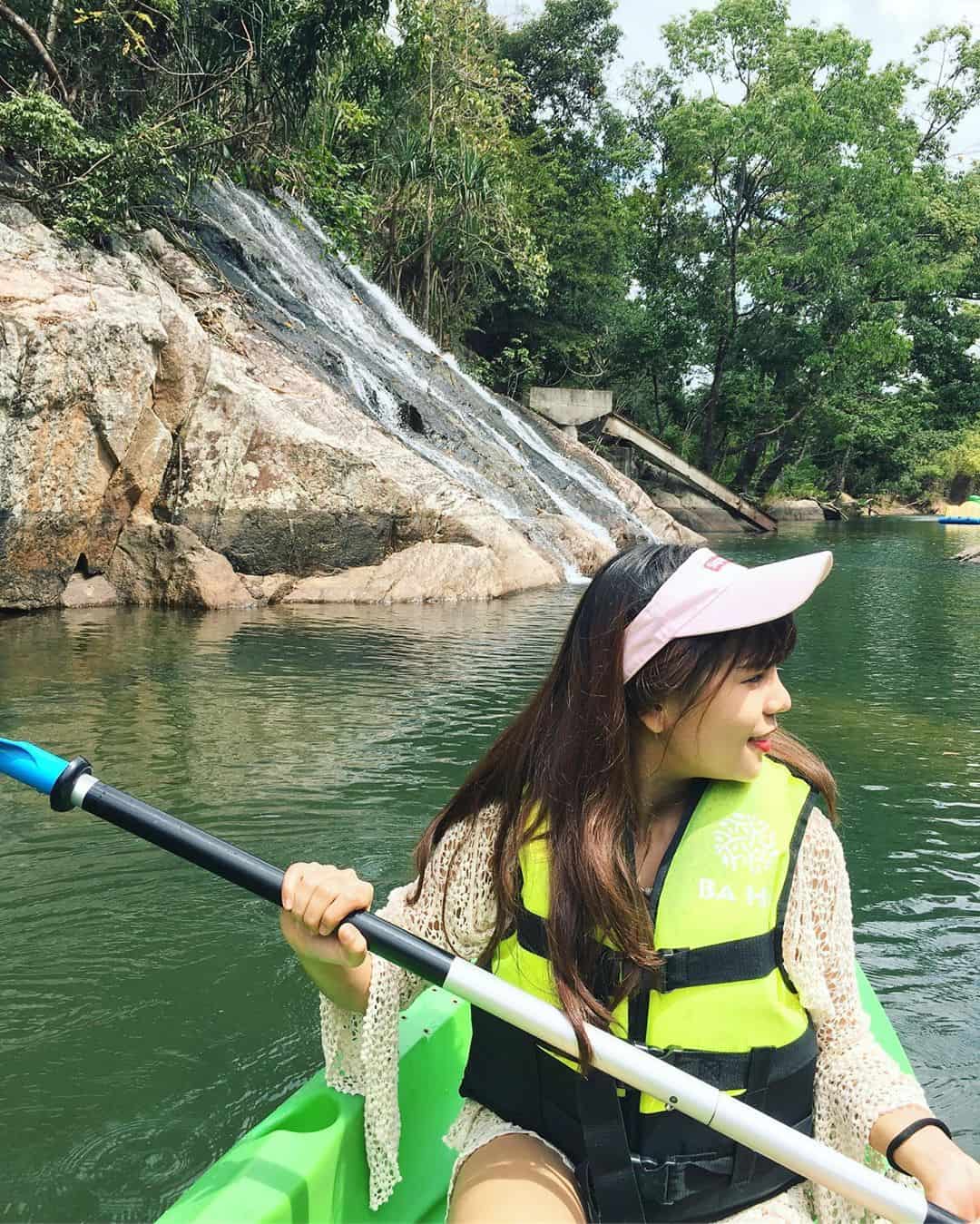 Arriving in the morning, you'll certainly get hungry amidst the journey, and need some snacks or lunch to fill up your stomach. A quiet, peaceful lunch under the green foliage is another good idea, when you're already tired with all the swimming, hiking, jumping, and kayaking. You will find locals selling roasted chicken, snacks and cold drinks along the way, so don't worry too much about lunch.
III. Tips on visiting Ba Ho Waterfalls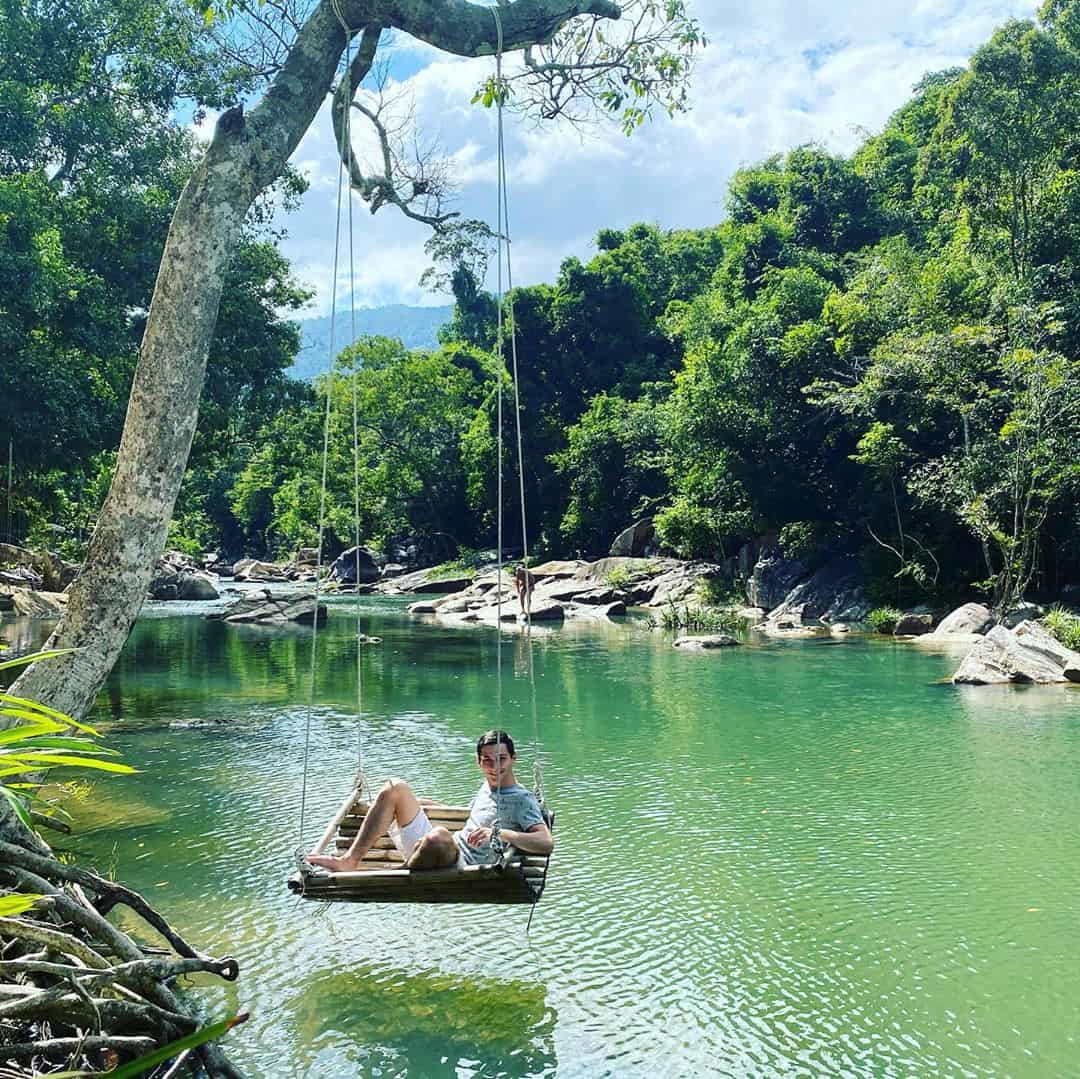 An adventure into nature is nothing like a stroll in the city, so you'd better prepare yourself well before embarking. Keep in mind these tips for a maximised experience:
Come early in the morning. The view is so much better in the daylight.
Take account of weather. You don't want to climb slippery rocks in/after a rainy day.
Make sure you pack enough water, snacks and light clothes. Wear sensible shoes so that you can climb intensively for a long time. Needless to say, the journey doesn't fit anyone with mobility issues or children.
It's a journey into the woods. Adhere strictly to the stated rules to avoid wildfires.
And you're good to go! Ba Ho Waterfalls is a quiet, less touristy place that is totally worth a try! It's a chance to immerse in the healing beauty of nature, while giving your body really good physical exercises. If you're reasonably fit, it's an indispensable attraction for you, when coming to Nha Trang.