Mong Tay is one of the large islands lying in the South of An Thoi archipelago, Phu Quoc Island. As one of the five most beautiful and favorite islets belonging to Phu Quoc island, Mong Tay Island has a weird name triggering the curiosity of visitors. The origin of the name Mong Tay comes from numerous henna trees on the island, which literally means Mong Tay (nail) in Vietnamese. Nonetheless, today, there are not many left in this place.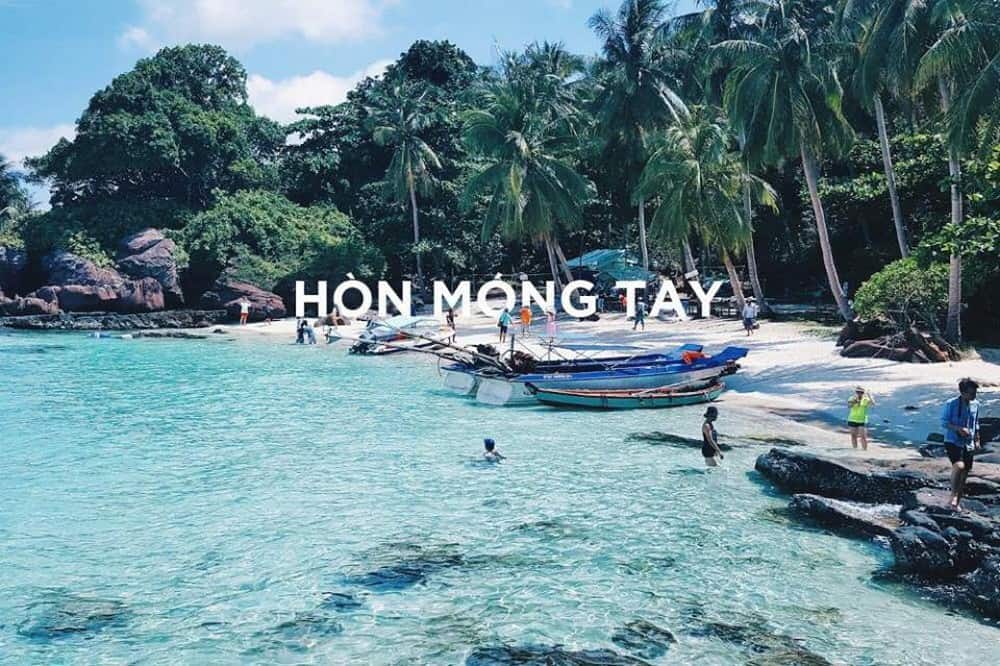 I. Best Time to Visit Mong Tay Island
Summer months, from early May to late July, are the best time to travel to Mong Tay island. It is time to run away from the scorching hot weather and to catch the best scenes on the island.
Besides, you can visit the island in October and April when the rainy season begins and finishes, since there is less rain and only a few tourists, bringing you a pleasant and tranquil journey.
II. What to Do in Mong Tay Island That You Should Never Miss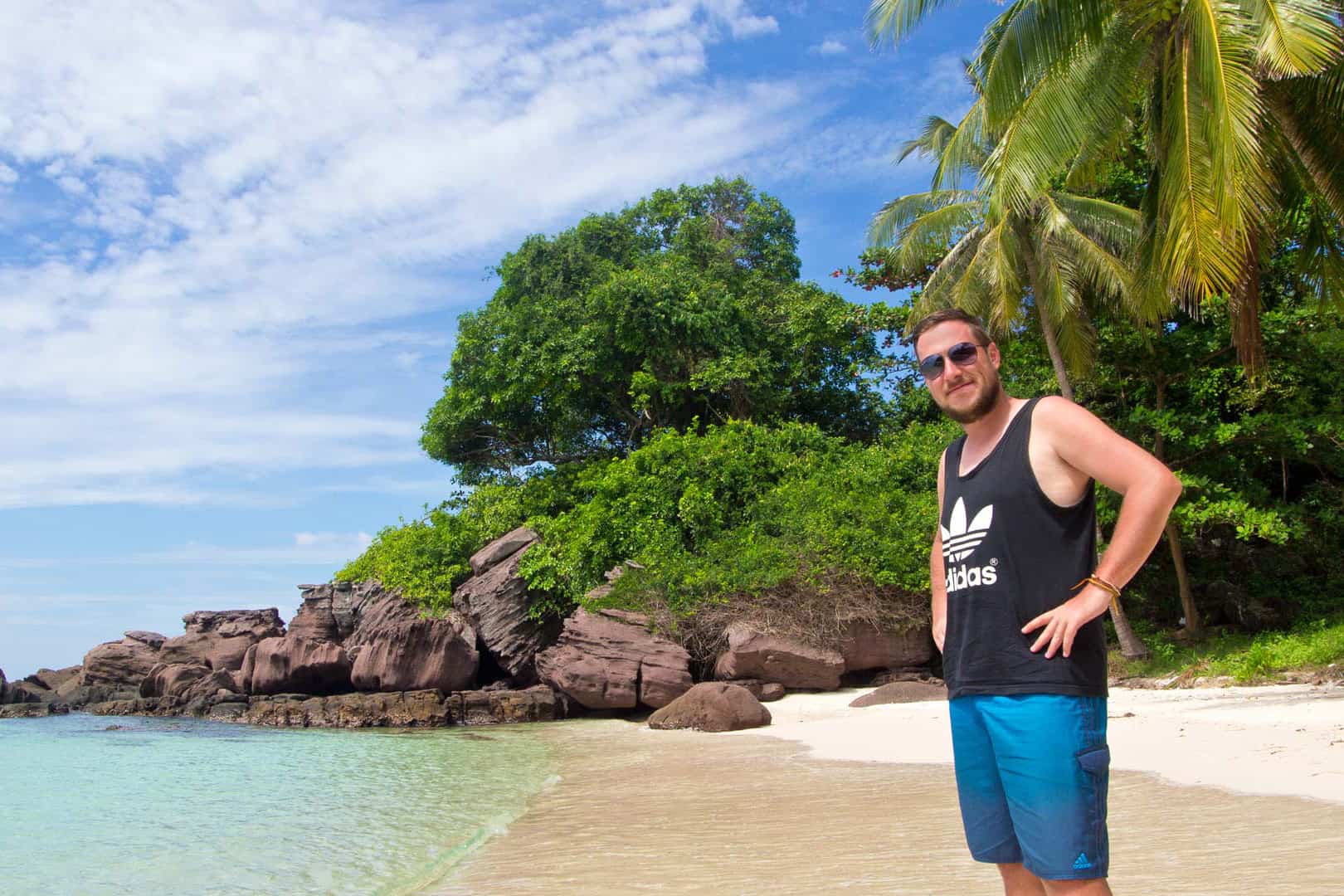 1. Going Swimming
What a pity if you don't go swimming when visiting the island. As soon as you arrive there, the immense sea with turquoise water will appear in front of your eyes. It is not too deep, so swimming over to the shore is possible.
Besides, spending time on immersing yourself in the clean water, you only hear the murmuring sounds of gentle waves and the breeze of the wind, all the noise of busy cities seems to vanish at that time. The feeling of immersing yourself in the open-air space is so amazing!
2. Diving for coral reefs
In addition to going fishing and catching crabs, one of the most exclusive activities in Mong Tay island is coral reef diving. The coral ecosystem here is considered the most abundant in Vietnam, with 17 different types of soft, hard, and sea anemones. The vibrant reefs will surely impress every visitor.
3. Capturing a Lot of Photos
You will definitely have million-like Instagram photos during the trip to Phu Quoc island. The beautiful and unique scenes promise to be the best background for photoshoots. Additionally, you can combine watching sunrise or sunset and saving those fanciful moments.
Mong Tay island used to be a proposing venue for a couple from a different country. Perhaps, in the near future, this place will be a dating spot to witness various romantic love stories. Recently, a lot of Vietnamese couples come to Phu Quoc, especially Mong Tay island, to confess their love and take wedding photos. Therefore, when reaching this island, you will capture numerous photographs via your smartphones and cameras.
4. Visiting the house of 'Robinson'
Another fascinating thing that you can do on this island is to discover the shelter of a Robinson Crusoe in real life. You can ask a local fisherman to take you to the house of the 'island lord' named An in his fifties with the nickname 'the blind knight'.
He is the one who has brought life to this deserted island for 13 years. He cannot see but be able to swim from the island to the mainland without eating for a month. His other talent is anticipating the storms of the sea.
Coming to the house, the hospitable owner will welcome you with a friendly smile. The more stories he shares, the more admired you may feel.
Furthermore, it is interesting to try to be an amateur fisherman to collect fish, squids, and clams. The feeling of achievement when catching those sea creatures is delightful.
Overnight camping, holding an outdoor BBQ, watching the sunset and sunrise should also be on the list of what to do on Mong Tay island. At night, building a fire, sitting and singing together are the most valuable moments in your youth.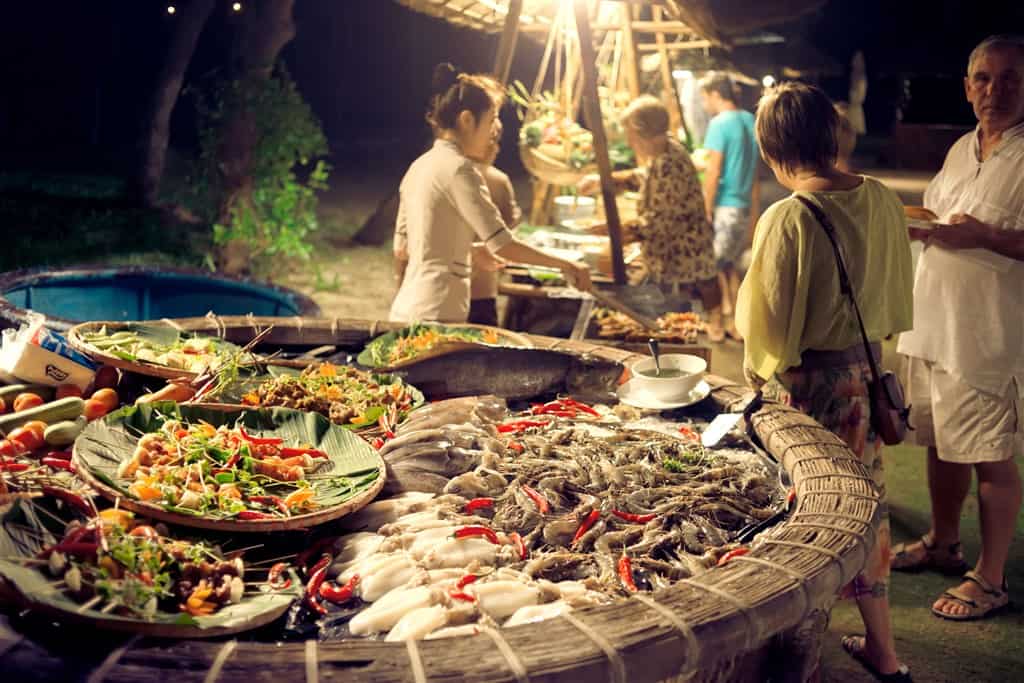 III. What to Eat on Mong Tay Island?
You can drop by the Duong Dong market to buy fresh seafood and bring it to the island for a substantial meal. However, recently, tourism services in Mong Tay island have developed significantly, creating an increasing number of restaurants on the island. Therefore, tourists will have a variety of choices when it comes to eating.
IV. How to Get to Mong Tay island?
If you are in Hanoi, the plane is the most convenient vehicle to reach Phu Quoc island. On the other hand, those who stay in Ho Chi Minh City can choose either aircraft or bus to access Phu Quoc, then drive to An Thoi pier, get on a speed boat to the islet.
If flights save time and energy, traveling by bus won't cost as much money as planes will. You can get on Kumho or Phuong Trang coach at 180.000 VND to 200.000 VND per ticket. After heading to Ha Tien Coach Station, the coach will get you to Ha Tien pier to arrive at Mong Tay by watery vehicles.
It takes about one hour by boat or 20 minutes by canoe to travel from An Thoi pier to Mong Tay islet. If you depart from the port at Bai Sao Beach, it will take a little more time.
V. Notable Tips When Visiting Mong Tay Island
From our travel experience to the island, we would like to recommend some dos and don'ts in your journey:
Prepare essential items for a beach trip, comprising swimsuits, sunscreen, sunglasses, hat, and repellent. Don't bring too much cash and precious jewelry.
Track the weather forecast regularly to avoid the periods of storms and torrential downpours.
Book air tickets as soon as possible to save money and avoid being sold out.
There is an unwritten rule that 'tourists should not take anything but photos, and should not leave anything but footprints'. Mother nature has bestowed Phu Quoc island such an alluring and original Mong Tay island; thus, don't ruin the place. Keep the island pristine and clean. Don't throw the trash into the environment.
We hope that through the guide and experience of visiting Phu Quoc island, you find it helpful to plan a wonderful vacation on the island. Also, don't forget to share with us your memorable holiday!